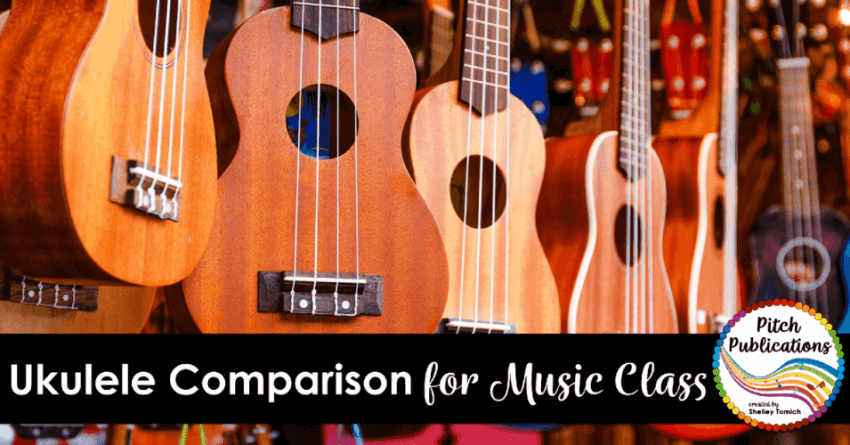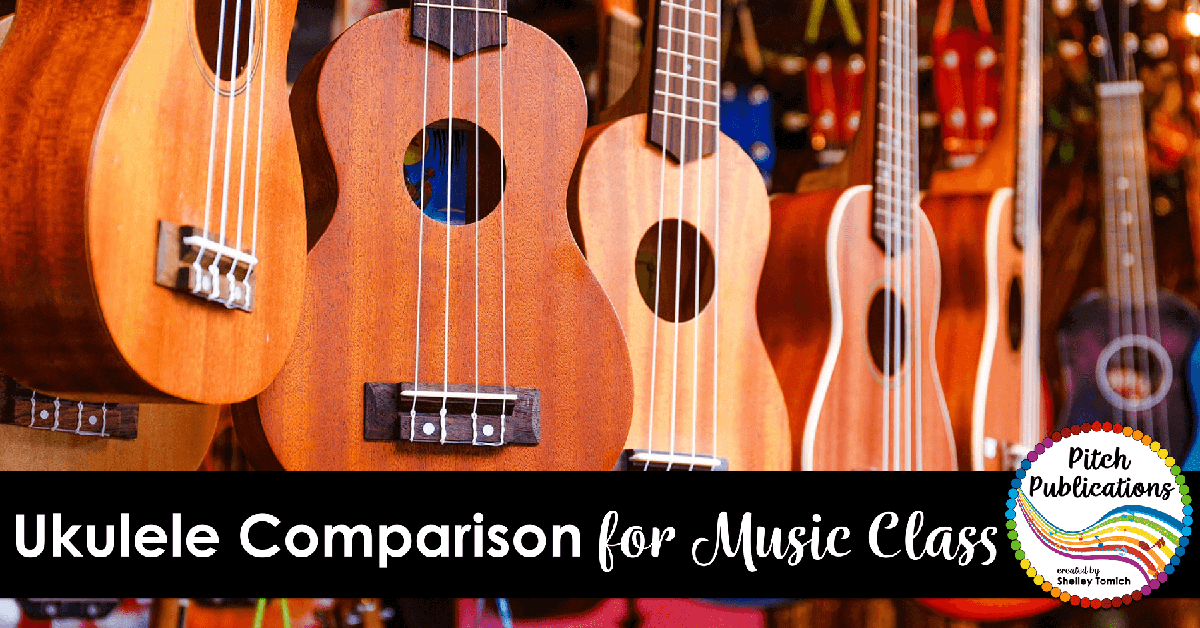 Hi everyone!  Many of you know me as the creator of Rainbow Ukulele for the classroom.  I am so proud of that curriculum, but also know I am like you.  I didn't grow up playing the ukulele, I don't have a degree in string instruments, I am not a violinist, and I am not Jake Shimabakuro. However, I am a music educator who fell in love with the ukulele, and wanted to share that passion with students! This ukulele brand comparison was done at first for my own program!
The research I did this year will be beneficial to those getting ready to start an ukulele unit!  At a previous school, I used Mahalo U-30s, but Mahalo discontinued the line. I had to go back to the drawing board to figure out what to order for my kids.  My school has a class set of ukuleles, and I allow my students to order ukuleles similar to how many allow their students to order a recorder.
Note:  These are all just my own opinions and you are free to disagree!  Instrument selection is a VERY personal process, and we all are drawn to different aspects of the ukulele.  This post is intended for general music teachers looking to purchase instruments for their classroom.  
Ukulele Brand Comparison for Music Class
I played all the following instruments over the course of a month.  They were stored near a window that had some fluctuation in temperature through the day and week.  I simulated my classroom, which is not heated or cooled consistently. I tried to purchase most of the ukuleles in the $30-$40 range that I could easily order off of Amazon. The orders for school ukuleles are through our local music store for a volume discount, but I wanted an even comparison for the purposes of this post.  Much nicer ukuleles can be found in the $50+ range, but realistically, most schools are not able to purchase in this price range.  If you can, awesome!  If not, read on!
For each instrument I have listed the price and as much information as I could find.  In addition, I provided a few personal notes, a quick performance by myself, and a review from someone else found on YouTube, if available.
This post contains affiliate link, though all opinions are my own. Find my full disclosure policy here.
Click the + sign to expand the information for each brand!

Like any instrument purchase, there are so many factors that will go into your final decision.  Make sure you buy a ukulele with geared tuning pegs (all the ones on this page have them).  One of my students brought one from home which does not have gears and I literally could NOT tune it.  At all. The strings would not catch at the right pitch.
I really think you need to narrow down your choice to two or three brands, and order one of each for you to try out and pick your favorite!
This is the order I would put the ukuleles for my classroom right now:
Makala Dolphin – great colors, amazing sound, but pricey!
Diamond Head – great colors, great price, great sound.
Mahalo Rainbow – great colors, great price, great sound.
Humano U-30 – great colors, great price, good sound, harder to find.
Hola HM-21 – great price, good sound, harder to find, no case.
Hilo – great sound, but pricey, limited colors.
Mahalo Kahiko (Plus) – pricey, good sound, limited colors.
Mahalo Kahiko – good price, ok sound, limited colors.
Pyle Ukulele – would not buy for my program.
So what did I buy this year?  We ordered Diamond Heads.  I inquired with my local music store about the Diamond Heads, Rainbow, and Dolphins.  We could not get the Rainbow or Dolphins in time, and I was happy with the $30 price tag for the Diamond Heads.  We have had them about three weeks and they are starting to settle in.  In fact, a parent came by the other day and mentioned that she thought the one her child brought home actually had a nice sound! (I felt validated 🙂 ).  I am happy with the sound of them so far and though they took a bit to tune, they are doing much better.
Why did I talk colors?  Colors motivate my kids.  Maybe the colors aren't important to you, but I think when the kids feel connected to their instrument, it does help.  I wouldn't choose a BAD instrument because it comes in multiple colors, but other things being equal, I would choose one brand over another because it has multiple colors.
I thought these were interesting – a comparison of my top two choices and then a comparison of a super cheap vs super expensive ukulele!
I personally loved the third video, and I kept guessing wrong! In my opinion, the Makala ukulele had a better sound in several cases!

If you have tons of time on your hands and want to get crazy about it, this guy has some tips to increase the sound quality on your "cheap uke."
My final advice? When in doubt, bake cookies! (Pillsbury makes an excellent pull apart cookie dough, I must say). A dozen cookies on someone's desk can make them feel warm and gooey inside (pun intended). This strategy has been around since the beginning of time and is a tried and true method.
If you are new at school and looking for lessons for the first day, you might also enjoy this post on first day lesson plans! 
Who did I miss? Any other key people in school we should add?