Happy beginning of the year everyone! I know many are already back in school or are starting up very soon! Nothing is more exciting than back to school!
I have seen many request on music ed forums for "What do I do the first day of music class? Help!" So here is and outline of what I do for the first lesson with my kiddos.
Procedures
I have been at my current school 5 years and did not have to spend as much time going over "boring stuff" (but totally necessary!!!) at the beginning of the year. For Grades 1-5, I start the first lesson with a quick introduction of myself and some important things about me.
We never really get a lot of time to chat so I want them to know me as a person, not just their music teacher. This takes less than 5 minutes and the kids really enjoy hearing about my sad gardening adventures and my crazy 3 children. Remember that research says that kids often remember the teacher, not necessarily the lesson!
Sing Each Day
Next I put them into their seating chart, discuss rules, consequences (warning, time out, parent contact), the Big Hand Award, and the normal procedures for starting class. I have been doing the same beginning procudure for my whole career and it just works.
My kids sit in a square shaped rug. When they come in, I let them chatter, talk to me, etc. They know to go straight to their assigned spot. This gives me time to grab my materials for class, make notes from the pervious class, etc. (The first day, I let them sit in the middle, and then quickly give them an assigned spot).
When I am ready to begin, I simply say "Be my Echo!" Students repeat that and then I start right in with the first kid singing Johnny (Sol-mi) (students echo), Susie (Fa-Re) (students echo), Jennifer (mi mi-do) (students echo), Graham (Re-ti) Students echo.
Repeat that pattern till I get to all students. If I have leftover in the pattern I sing my name, teachers name, whatever. Then end "We're Done) on Ti-Do.
I do this every class K-5. They are used to it and know it is my signal that class is starting and after "We're Done" I'm going to start the lesson. We sing every single class, even if we are not concentrating on a singing standard for that class. In addition, it is a GREAT way to learn and practice names! If I can suggest nothing else, learn the students' names!
Procedures are Important
At this point in subsequent lessons we will do Composer of the Month, but we do not start this till week 2.
(Kindergarten recieves this information as well, but I intersperse it throughout the lesson. The little ones just can't sit and listen for a few minutes like my big kids can. I will do a whole post another day on starting off with K! It is a whole different ballgame!)
My procedure/introduction information takes about 15 minutes. I know some people like to do one rule at a time or break it up over several weeks, but I think that if I spend 15 minutes establishing classroom management and getting to know my kids (or catching up after the summer off), it pays off for the rest of the year. Plus, I make sure the remaining time is jam-packed with awesome activities. Plus, the kids expect this at the beginning of the year.
Repeating Lessons Every Year
For Grades1-3 I do basically the same lesson at the beginning of the year every year. We have less activity time because of the time spent on classroom management. This problem is solved because some remember the activity from previous years. It also reminds students how much fun they will have in the music room.
For those worried about it being too repetitve for you or the students, let me alieve your fears. One, you have SO much going on the first week of school! Keeping the amount of lesson material you must remember down helps with this. For students, think about the last time your heard one of your favorite, well-known songs on the radio – it probably made you feel great inside! I think bringing back a familiar activity evokes the same feeling for students. I have NEVER had a student complain "Oh, we did this last year!" Instead it is "Oh my gosh! I remember this! I love it!"
So what are we actually doing? Here are my lessons!
Hiccup Buttercup – 1st, 2nd, and 3rd Grade

(Note: the full version of the lesson complete with national standards is found in Pitch Hill) and in my Back to School Bundled Lessons!
Musical Focus:
Fun introduction to music class.
Solfége singing (for first grade we don't spend time on the solfége as they did not learn the notes in K).
Tempo.
Playing instruments – we do a great cup game for this song with modified levels for 1st, 2nd, and 3rd.
Procedure:
Teach pitches on solfége. Most of my students remember the notes from our studies with Pitch Hill).
Practice clapping rhythm.
Tell them we are going to play an unusual instrument today – Cups (this used to be so much more of a surprise – then came the movie Pitch Perfect!)
Have students sit in a circle and teach the Hiccup Buttercup game.
1st/2nd- Hiccup (Clap, Clap), Buttercup (Tap rhythm on cup), Flies all night (Clap, Clap, Clap), Take your cup and (pick up cup), Pass it right (Pass).
2nd/3rd – Hiccup (Clap, Clap), Buttercup (Tap rhythm on cup), Flies all night (Clap, Grab, Flip cup over), Take your cup and (Clap, Grab, Flip, Down), Pass it right (Clap, Grab, Pass).
Note: 2nd grade does the harder version for classes with more time or more advanced students.
After we learn the cup activity, we talk about what Tempo is and how we can modify tempo. We then accelerate from adagio to andante to allegro to presto (or pick whatever terms are appropriate).
We also discuss what happens when we go too fast – we all tend to start screaming instead of singing!
This lesson has been taught year after year and is such a good ice breaker! I hope you enjoy it as much as my students have!
I add one additional activity for 3rd grade since they learn/remember "Hiccup Buttercup" so quickly.
Additional Activity for 3rd Grade – Happy Day!
This is a great lesson for listening and promotes cooperation in the music classroom!
Musical Focus:
Listening,
Form
Beat vs. rhythm.
Procedure:
Teach the mini-poem "Happy Day, Happy Day! It's gonna be a happy day!" (eighth notes, quarter. eighth notes, eighth notes, eighth notes, eighth notes, eighth notes, quarter.)
Have students do jazzy hands in the air while they say the poem. Then count down backwards from 8. Repeat poem; count down from 7. Repeat poem, then count down from 6, 5, etc.
Discuss how we changed it each time (took away one beat each time).
Tell students to find a partner.
During the "Happy Day" section, they will shake hands with their partner.
During the counting section, they will find a new partner. If they can't find a partner in the allotted time, then they just do the jazzy hands in the air we already practiced. They cannot have the same partner twice.
After we do the activity once with lots of giggling and "Happy Days!," I tell the students I have a challenge for them!
This time we will do the same activity but there will be NO sound. Instead, I will play the patterns on a drum. (I play the "Happy Day" part on the edge of a tubano and the counting part in the middle of the tubano).
We repeat with students working hard to listen and find new partners.
When it is over, I ask students how they were able to successfully do the activity without talking. Answers usually cover counting in their head and listening for the changes in the pattern. We talk about form and repeated patterns and how one part was steady (even if the number of beats changed) while the other was more a of a rhythmic pattern.
Turn the Beat Around – 4th and 5th Grade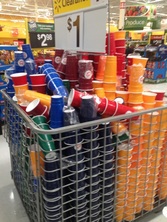 I keep the cup theme going with my 4th and 5th graders and we do an awesome routine to "Turn the Beat Around" by Gloria Estefan. I use the version found in the Making Music grade 4 textbook series but it could be modified for other versions.
You will need some pretty heavy duty cups for this activity as we use rhythm sticks as drum sticks on the cups. I just bought new cups at Walmart! They are pretty heavy duty and are on clearance for $1 each. I know one can buy red solo cups, but you will have to replace them after doing this activity.
Musical Focus:
Playing unusual instruments.
Drumming techniques.
Form: Verse/Refrain
Singing
Listening skills
Procedure (I do all this after rules, class procedures, etc.):
Introduce the song as a song from the 80s from a singer who would have been heard on the radio like today's artists are. Sometimes kids have a hard time believing we had popular singers too!
Play the recording for students and have students listen for the number of times the word "Turn" is repeated. I find if they have a specific item to listen for they are more likely to pay attention to the song. (The answer is 23 – you have to listen for the main singer and the background singers!).
Discuss the repetition found in the song and have students echo the refrain. Identify the repeated part as the refrain.
Pass out cups and teach them the cup game. You can find this lesson here.
I modify the difficulty of the moves based on the time I have and the level of my class.
VIDEO OF BEGINNING "Trick" (Sorry for the video quality – didn't have the best equipment at home!)
Ready for the full directions? Grab those here in the Back to School Lesson Bundle!
Again, my kids love these activities and they all leave my class smiling and ready to learn more at the next class! What do you do the first days with your kids?
If you want written lesson plans and presentation guides for this activity, you can now grab them in my store!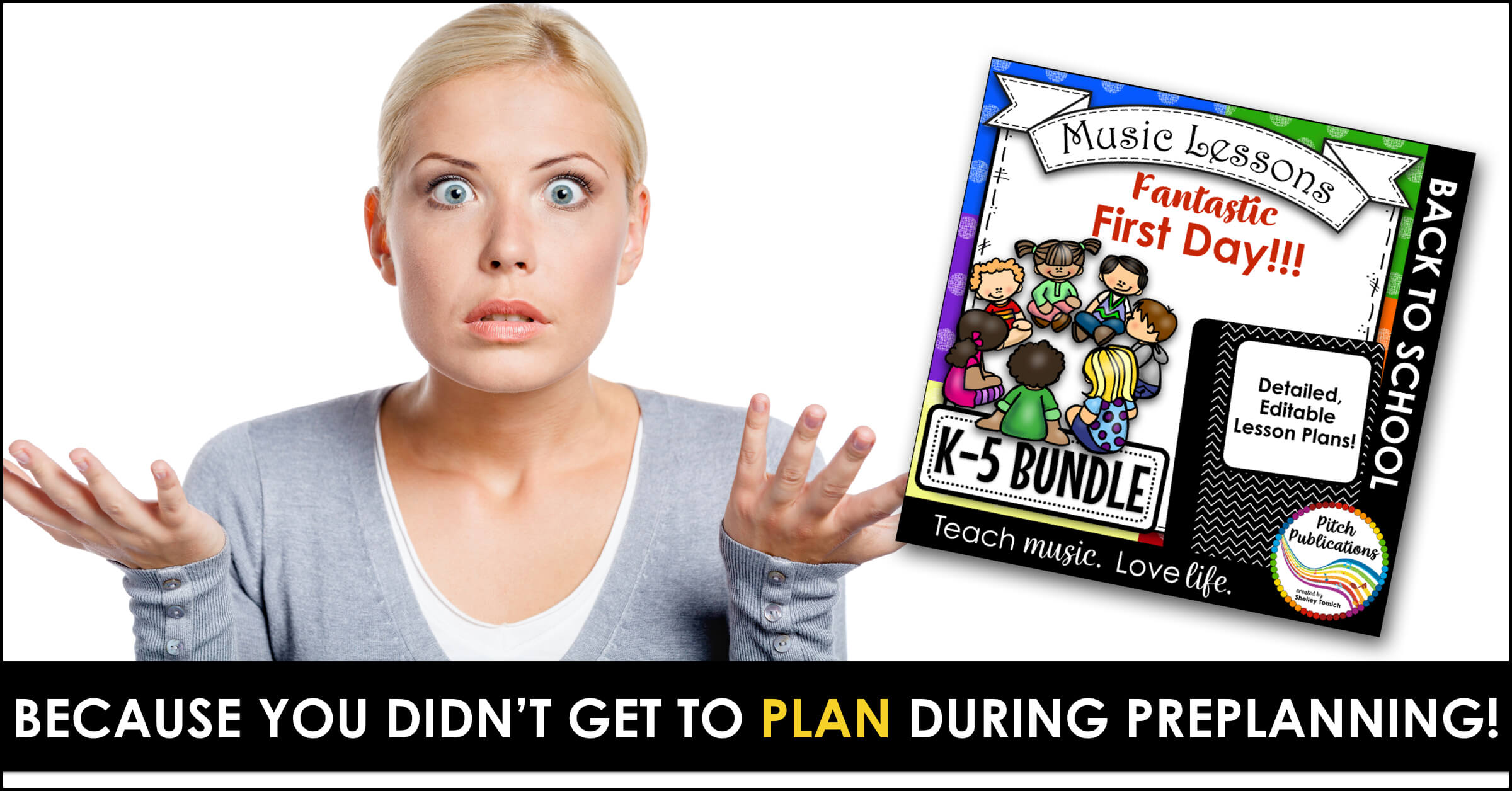 Wrapping Things Up
My final advice? When in doubt, bake cookies! (Pillsbury makes an excellent pull apart cookie dough, I must say). A dozen cookies on someone's desk can make them feel warm and gooey inside (pun intended). This strategy has been around since the beginning of time and is a tried and true method.
If you are new at school and looking for lessons for the first day, you might also enjoy this post on first day lesson plans!
Who did I miss? Any other key people in school we should add?
Musically,
Shelley