I want to teach ukulele, but…
I don't know what to teach and when to teach it!
How do I get ukuleles for my students?
I don't have time to put an ukulele curriculum together!
What ukulele should I buy?
I don't know what other materials I need!
I just don't know where to begin!
Any of these thoughts sound familiar? If so, you are in the right place!  Several years ago I was right there with you. I was introduced to the ukulele and wanted to bring it into my curriculum, but I had NO idea where to begin!  I didn't know what ukuleles I should buy, I didn't know what materials I needed, and I was nervous about teaching it to my students!  Hours and hours were spent over many months looking through materials to find the best program for my students. There wasn't an ukulele curriculum written specifically for use in the elementary classroom, so I started from scratch and created one specifically for my classroom!  Rainbow Ukulele was born and my kids LOVE it!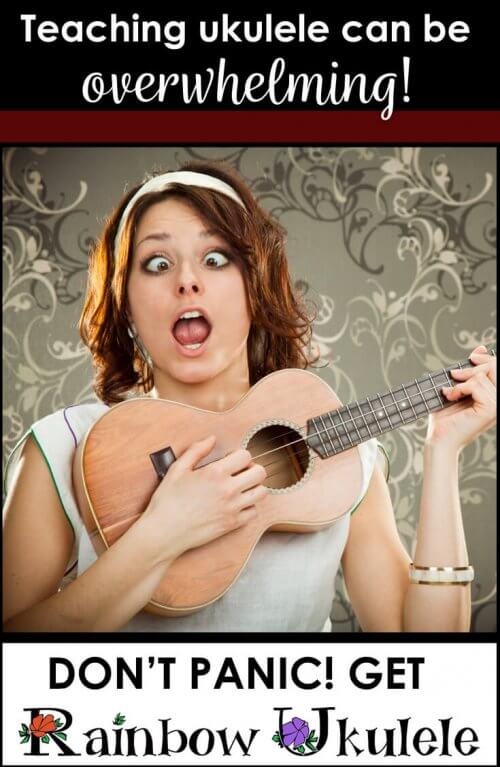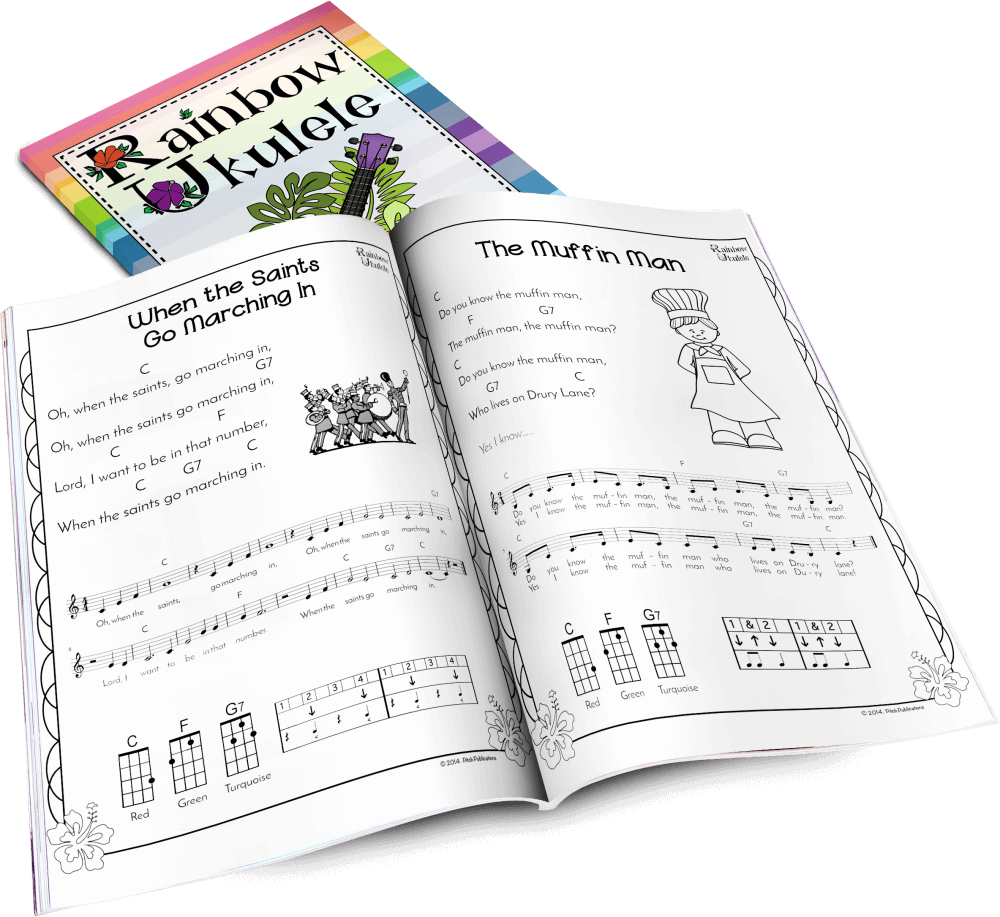 Rainbow Ukulele is a system for teaching Ukulele in the elementary general music classroom. In this system, students are systematically taught the history of the ukulele, the parts of the ukulele, how to tune, reading music (TAB and traditional notation), fingerstyle, and chords.
Students are led through playing songs using C7, C, F, and G7. There is a teacher edition available to help you guide your classes with an amazing PowerPoint presentation and COMPLETE lesson plans. In addition, a student book is available for students to write on and practice at home if desired.
Ukulele is sweeping the nation and is SUCH a motivator for students. It is a great way to have students not only learn about the elements of music but apply them. This system could easily be taught as a whole unit or spread out through other units to fit your particular program. Get it for your program now! 🙂
"I'm so impressed by the thoroughness of this product. I am so looking forward to having lessons, materials, all ready to project. It will make my teaching ukulele for the first time so much easier. Thank you!"
Sandra H.
Elementary Music Teacher
"WOW! You and I see eye-to-eye! I've taught ukulele for a few years and changed it up each time, looking for the best way to do it. I CANNOT WAIT TO GET BACK IN MY CLASSROOM AND IMPLEMENT THIS. You have 100% made my day. Thank you for such a thorough and engaging resource!"
Jessica L.
Music Teacher
"This pack is absolutely amazing! Completely thorough, organized, and a wonderful one-of-a-kind guide to the beginner's journey of the ukulele. I'm very glad I purchased this! It is worth the price!"
Jenna E.
Music Teacher
"This is seriously AMAZING!!! I have never taught Ukulele before and this resource has helped me so much! THANK YOU for all your hard work. What a fantastic resource!!"
Amy B.
Music Teacher
"Wow! What an amazing program! This has everything I need to start up a Ukulele program in my school, just add ukuleles! I am fortunate enough to have a donors choose project funded to receive a classroom set of uke's and then I realized, "Oh my, I will have to find a program for them!" This has it all. Thank you! I cannot wait to start up my ukulele program with sixth grade!!"
Elizabeth C.
Music Teacher
Listen to a few samples of the background tracks!

Looking for the play-alongs included in your purchase?
The password was included in your purchase.
Rainbow Ukulele ® is a registered trademark of Shelley Tomich. All rights reserved.