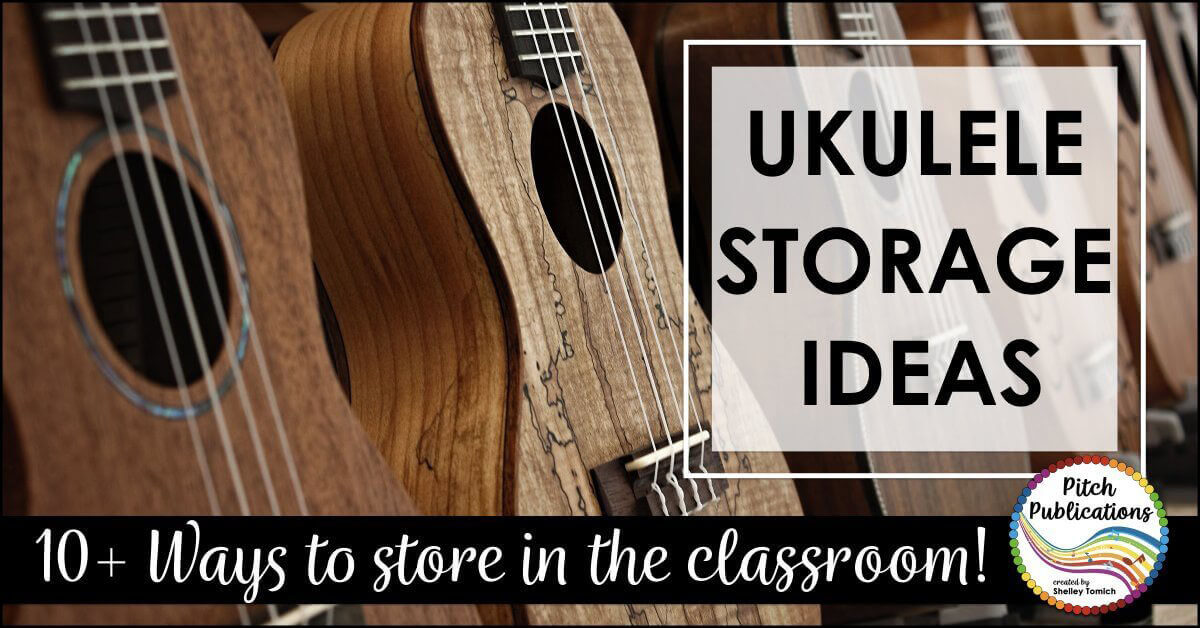 One of the biggest questions I repeatedly see in Facebook music groups is "How do you store your ukuleles?" It's a tough question with many different great answers! What works for me may not work for you – we all have different rooms, equipment, and budgets! Take a look at this compilation of ukulele storage ideas in the classroom, and see if one of these will work for you! (Thanks to all who agreed to share their ideas with me and the music education community!) If your idea/solution is not on here, please comment at the bottom of the post and let me know!
What I do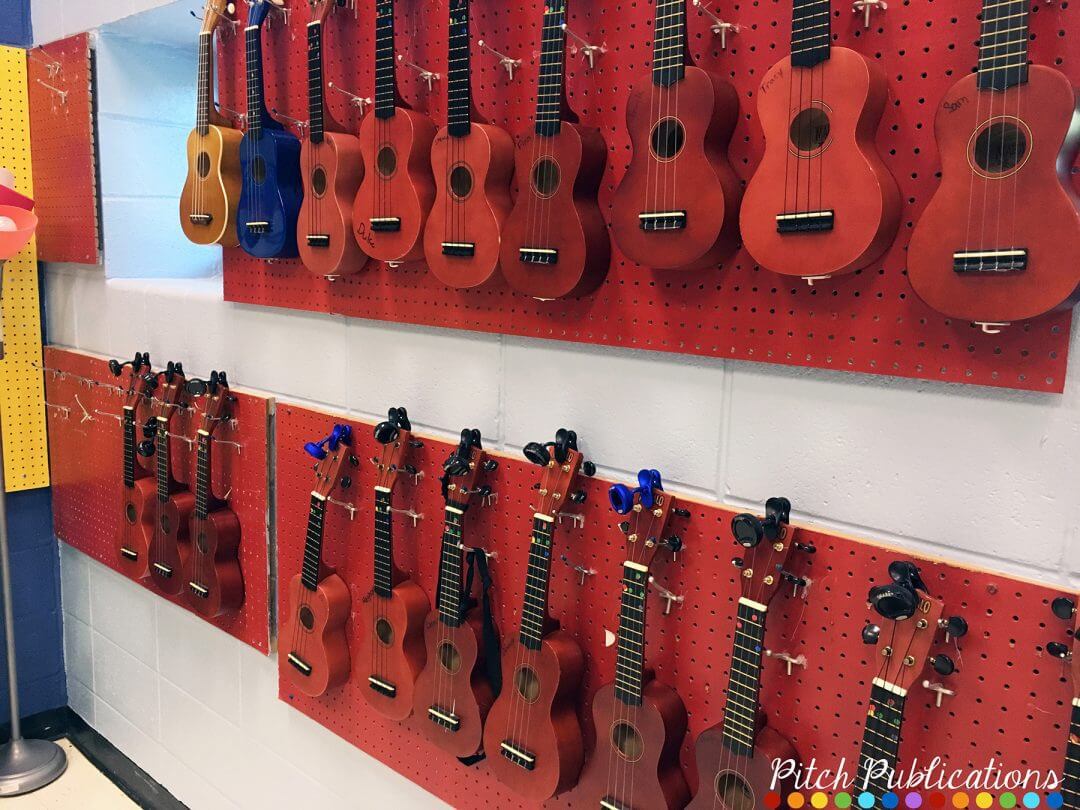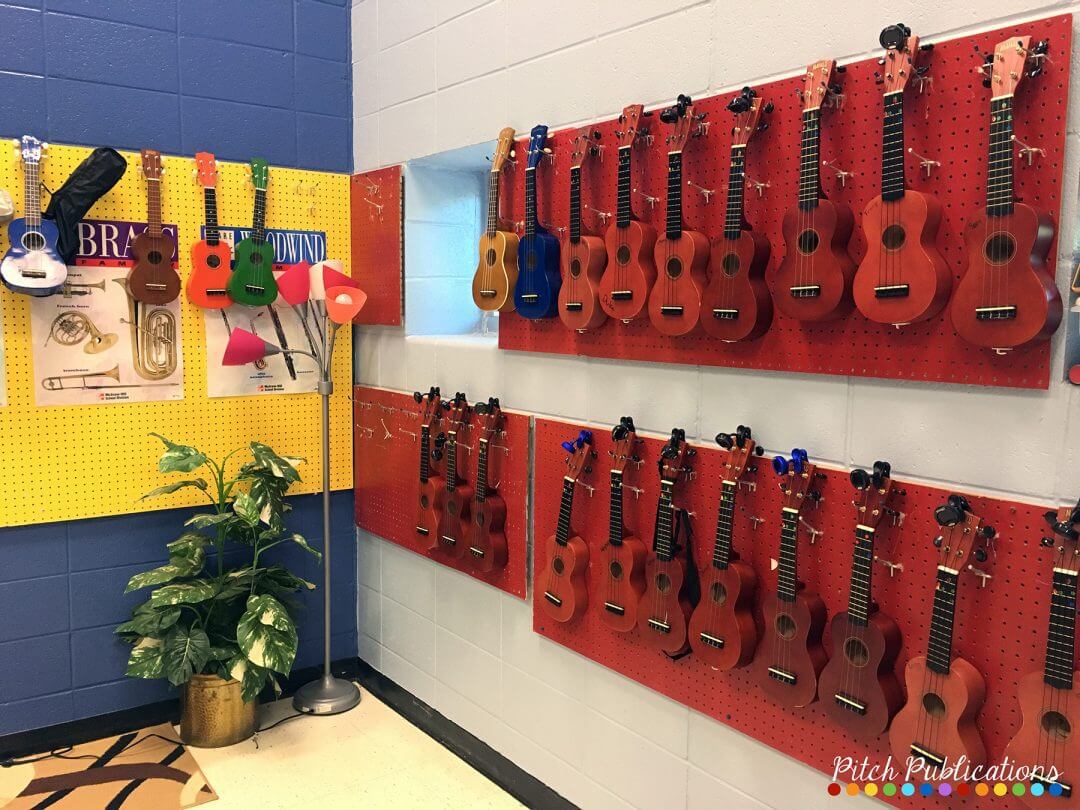 I was blessed to have a lot of open wall space in my room. My husband helped me design this peg board system, which I like because it is flexible. Some years I needed to put more items on the wall, I just moved things around to keep all the instruments in a tighter layout.
I also ended up hanging up all my headphones on the wall. My room has cinder block walls (yippy) so I couldn't really screw into the wall easily. My husband used construction adhesive to glue 1 by 2 furring strips to the wall. He did a top and bottom strip. Then we screwed peg board to to the furring strips and I bought simple hooks at Home Depot. I did this a long time ago, but I remember the cost was very reasonable. I believe it was well under a $100.
Other options for your music room

1. On the Wall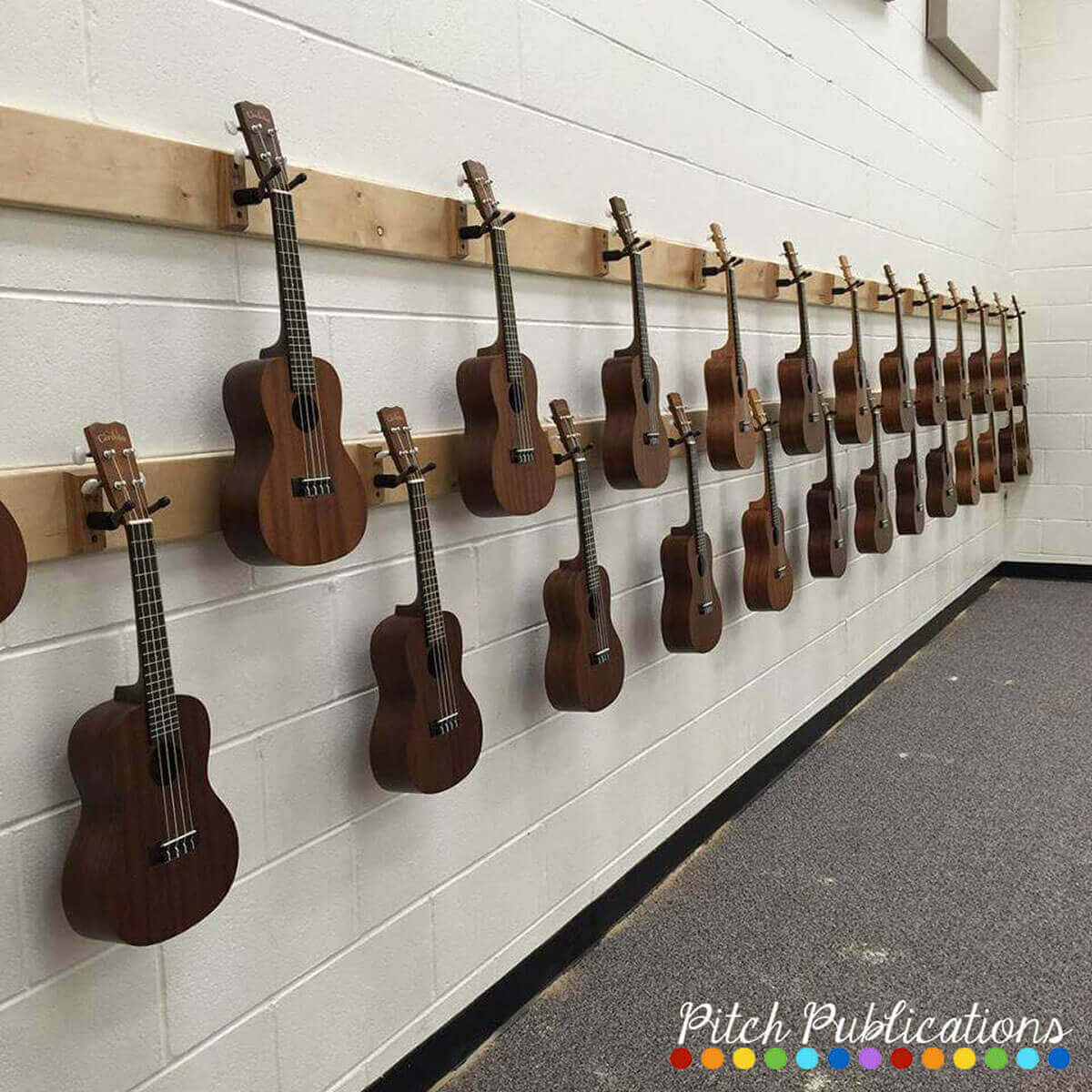 Zach Trosper posted this great picture! The hooks are called string swings and can be purchased here.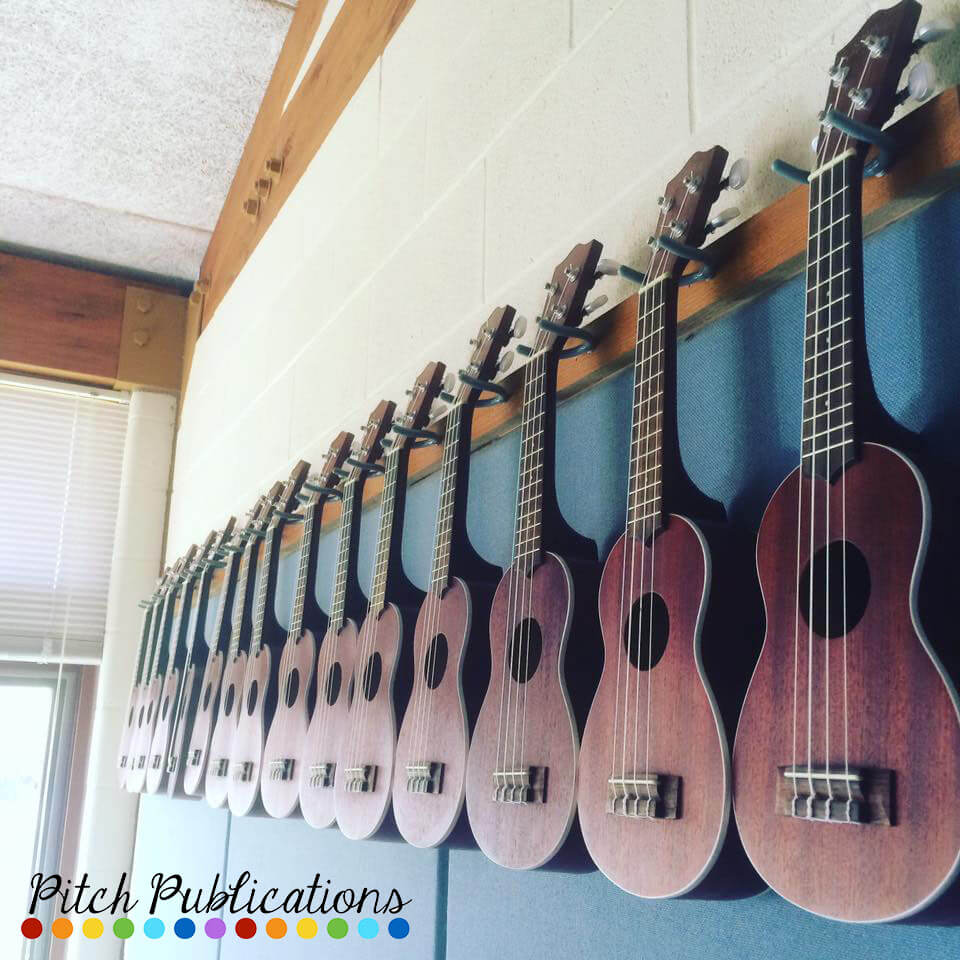 This picture comes from Zack Brewer. He said his maintenance staff hung them for him (don't you want his maintenance staff!?). Though he didn't know the hooks, they look similar to these from Lowe's.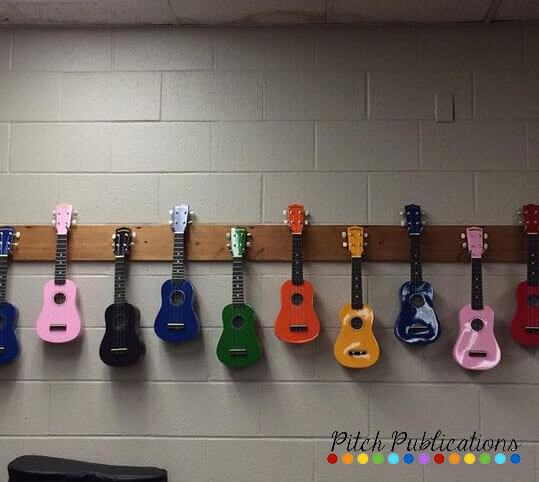 Thank you Rebecca Murphy for the picture! She says the hooks are from the hardware store.
This pic is from Carla McGlynn! She says her custodians did a custom build for her! She is bothered by the one extra red on the bottom row, but I think it looks great!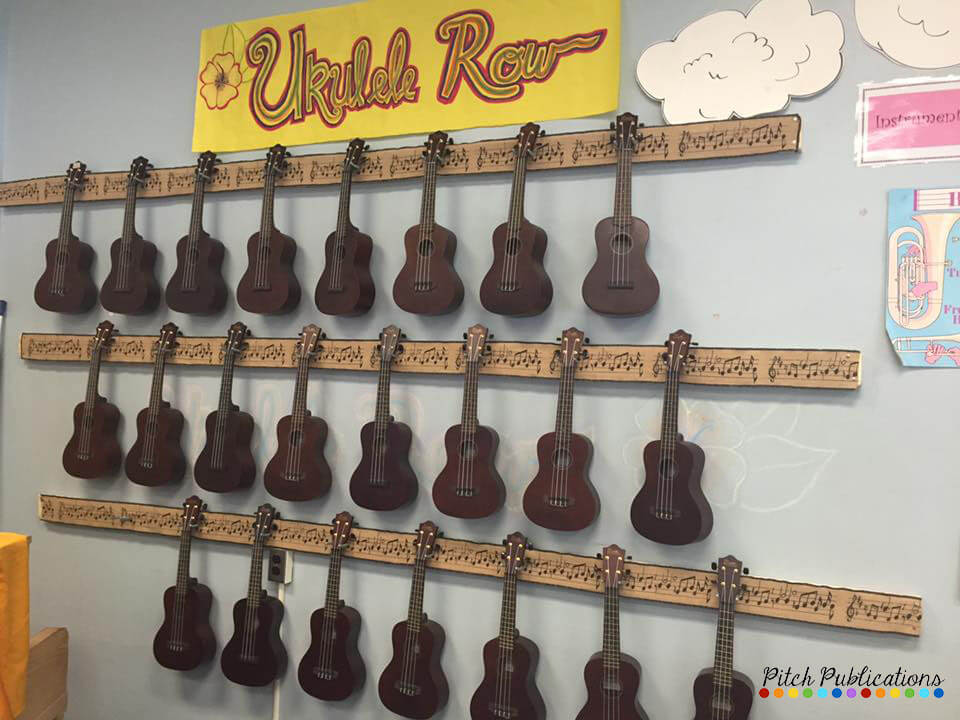 Great pic from Kristen Baskewicz! She built these with her PE teacher this year. She used three 10 foot 2x4s and 24 screw in tool hangers. They were purchased from Home Depot and her cost was $34. She said she had burlap music ribbon laying around and just tacked it on and screwed the tool holders through it. Looks amazing!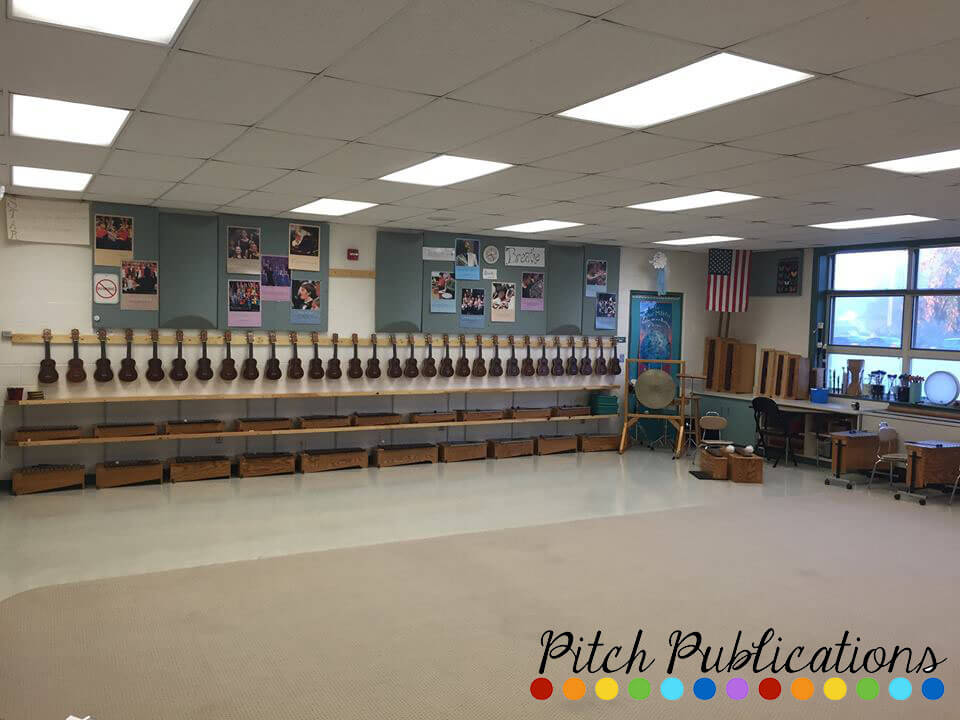 This picture comes from Drue Bullington – he built them himself! (plus the Orff storage too!). He says he bought garden tool hooks at Lowes or Home Depot for under $1.00 each. Amazing job!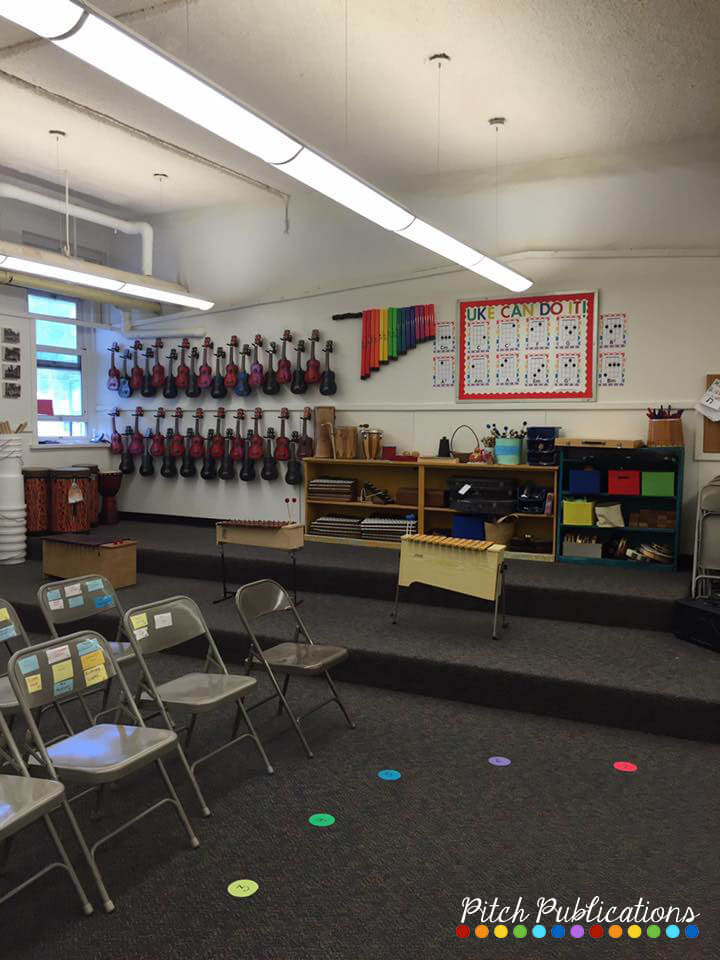 Love this pic from Diana Blakely! Looks like her double row of hooks is a great space saver!
2. On a Stand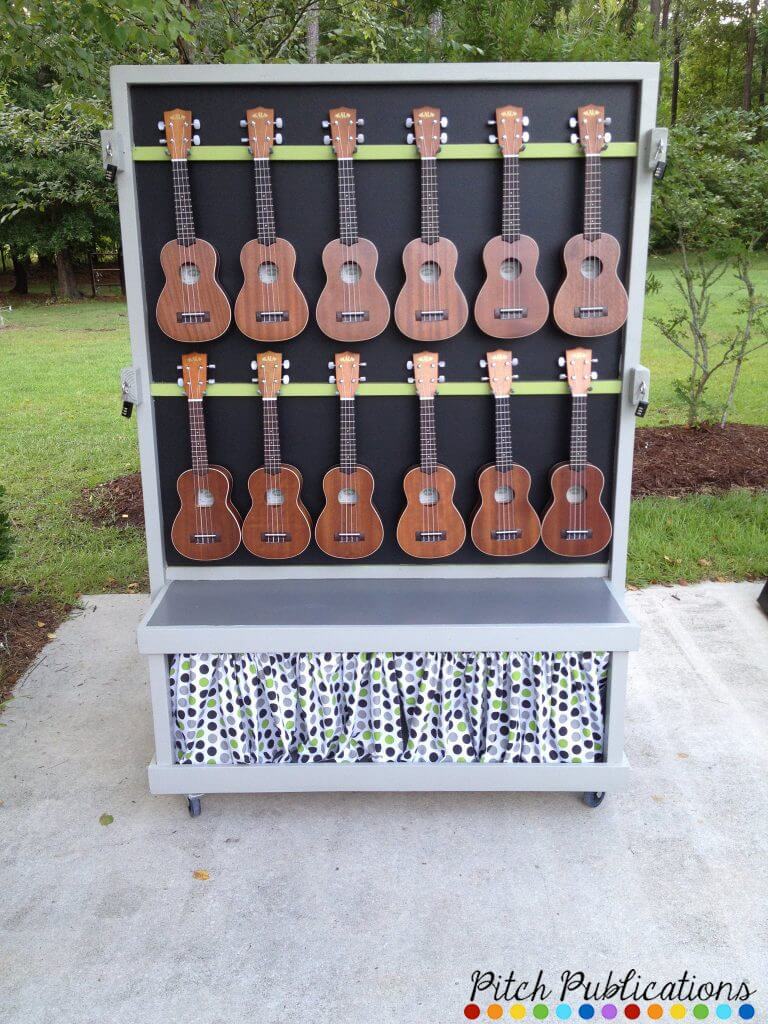 This is a great cart from Pam Hall! Her husband made it for her AND designed it! He will have plans available soon! The cart has 2 sides and can hold 24 ukuleles with storage underneath and benches on both sides. You can write on the board underneath the ukuleles because it is chalk paint! It rolls because Pam can't store it in her room over the weekends and needs to move it. Pam, this is fabulous!!!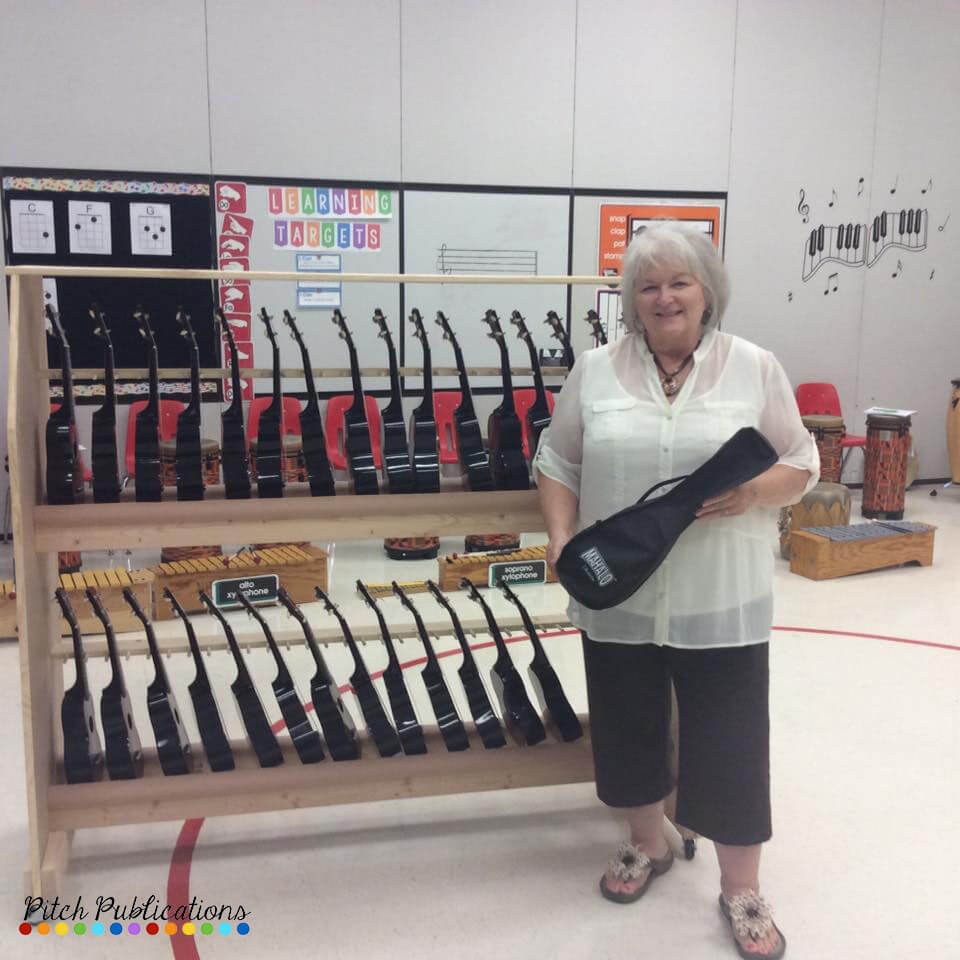 This picture is from Jacquie Wood. She had a volunteer from her church build the stand. Plans for hers (or one very similar) are $10 can be found here.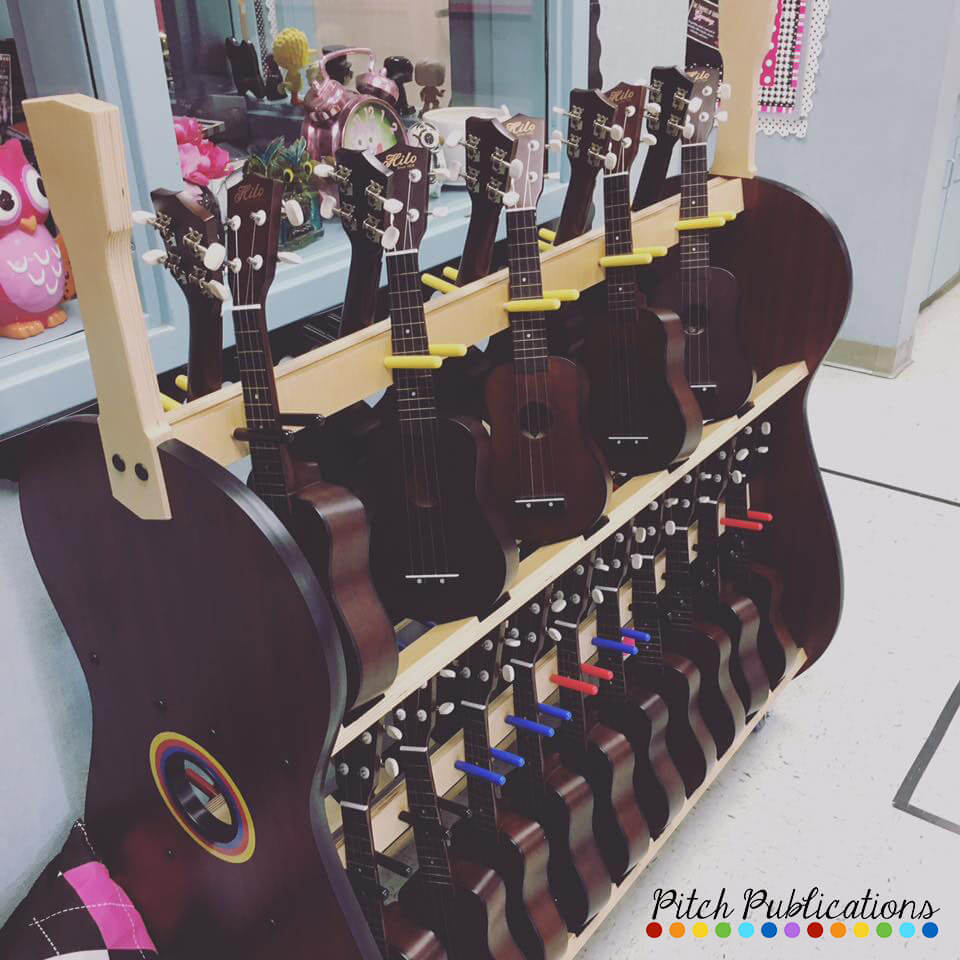 This awesome pic from Cara Coffey with Miscellaneous Me! I believe her cart is the Mobile Ukulele Classroom Cart found here!
This is a great cart from Jenny Good Bennett! Her husband made it for her and it cost less than $100! (They used repurposed wood!). I have already asked her to tell her husband to give us plans!
This is a great option from Kim Letellier! She used an inexpensive metal shoe rack from Wal-Mart. When she assembled it, she left off some parts to make it work. It has wheels and is lightweight so that it can be moved in and out of storage easily. The bunge cords give added stability and security for the ukes as it is moved. It holds 20 right now but with a bit more adjustment she thinks she could probably get a few more on.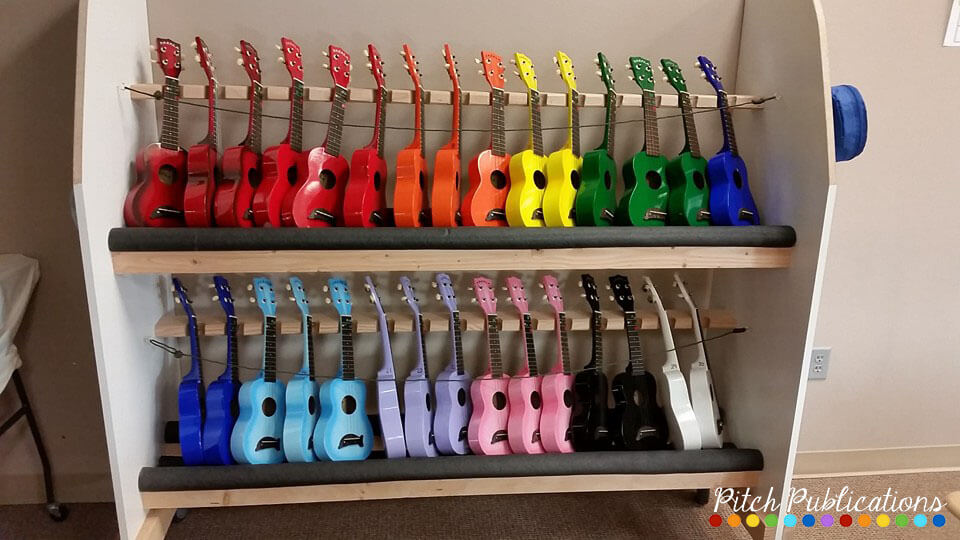 I believe this stand posted by Lise Haymond Hansen is the same as the one from Jacquie Wood. Looks great. Plans for hers (or one very similar) are $10 can be found here.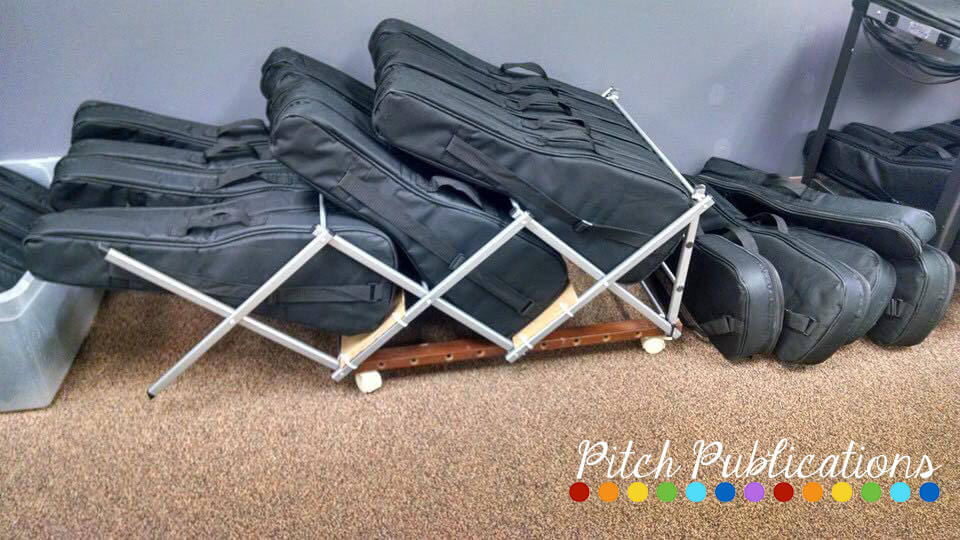 This picture is from Lee Randall. It is a clothing rack turned on the side with scrap plywood and zip ties. She shares with a colleague so the ukuleles travel between two rooms. She wants to add some pvc handles so she doesn't have to bend over each time.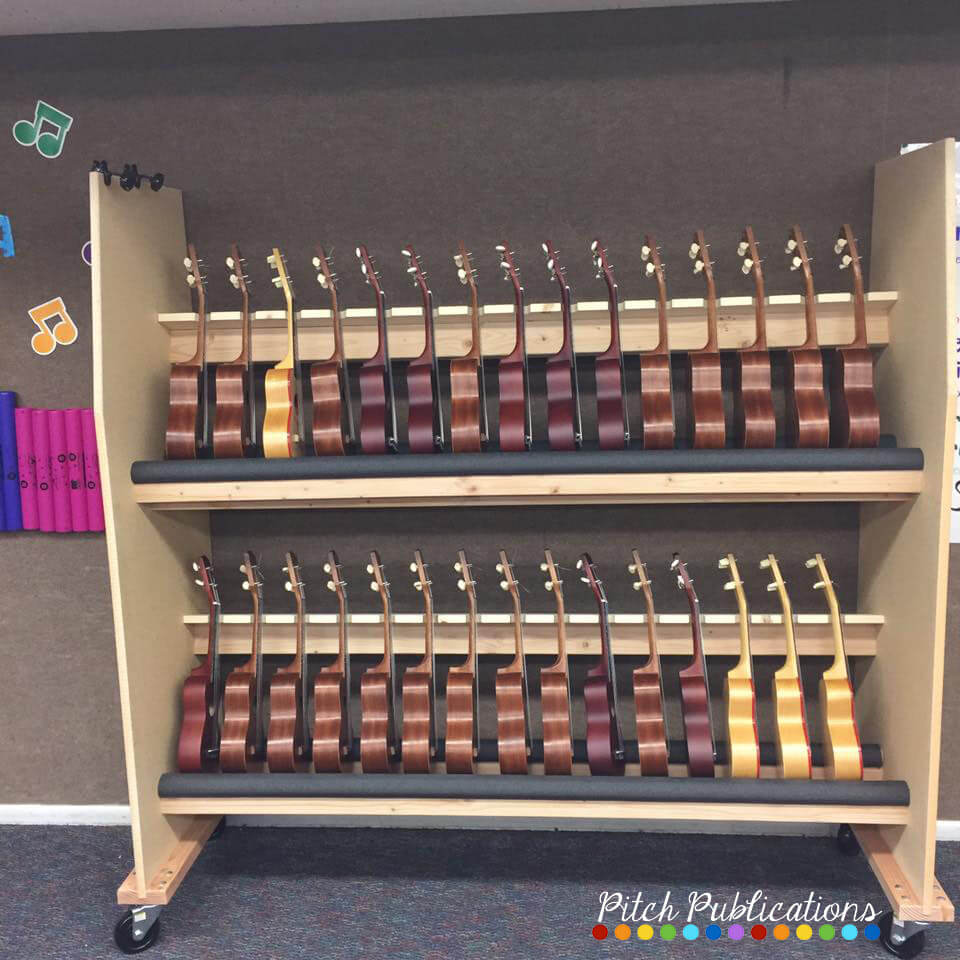 This is another version of the same plans from Traci Forsey. She said the materials her $150.00 to build. She had a local Boy Scout build it for his Eagle Scout Project (great idea!!!). Plans for hers are $10 can be found here.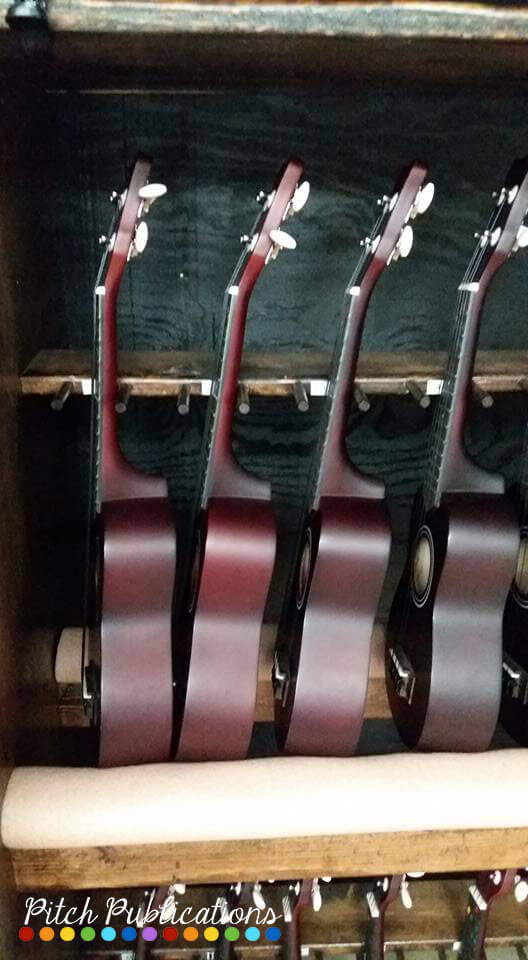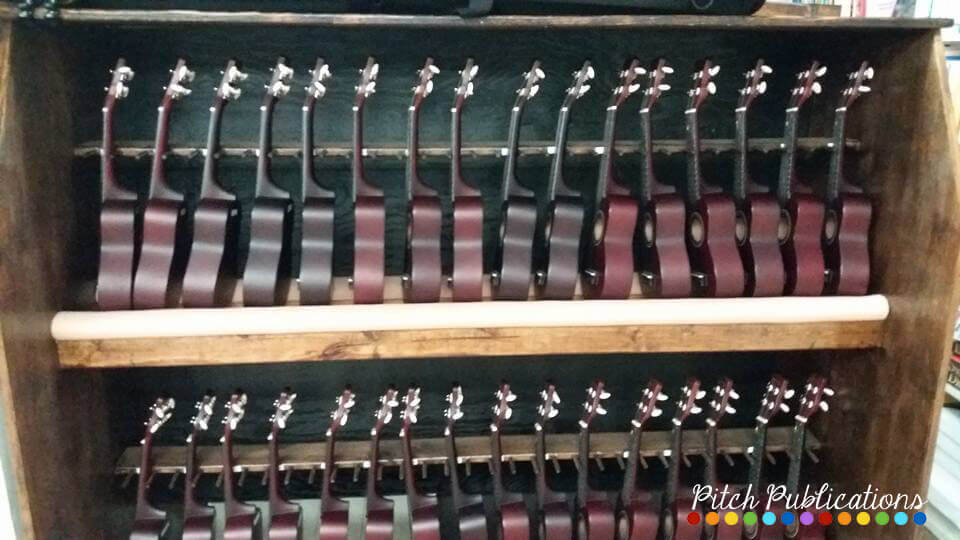 This awesome cart is from Stacey McCloskey. Her dad built 2 carts for each building she teaches in! He modified some plans I found on Pinterest. Each cart cost approximately $150. The front of the cart has pipe insulation to keep the ukes in place & there are pegs between each uke to keep them upright.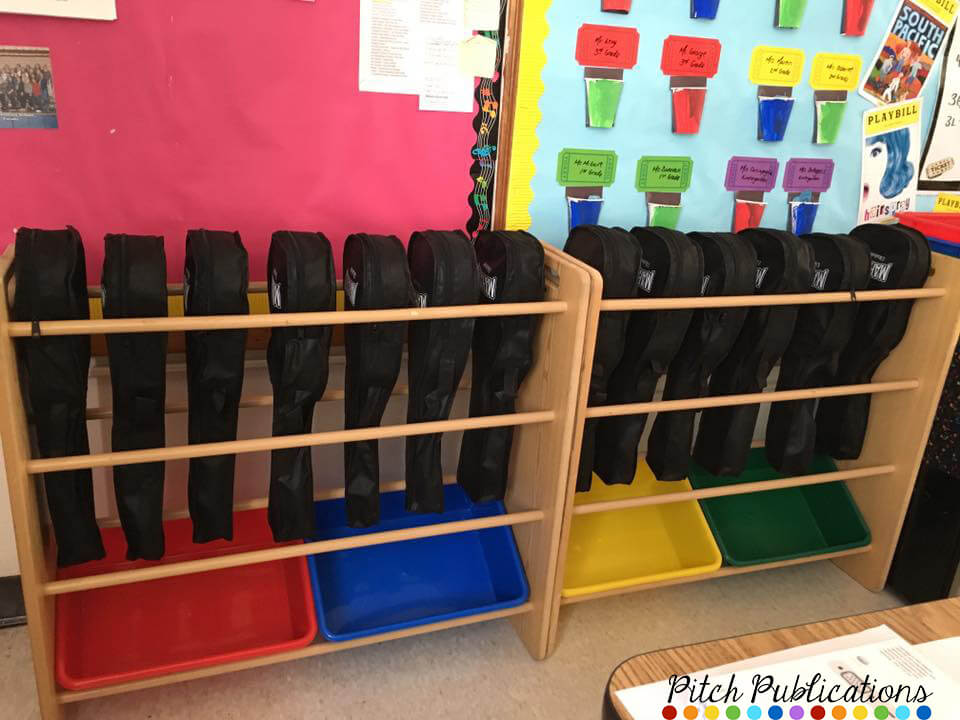 This is a great cart from Owen Hjuz. He bought these storage units off of craigslist! This is an amazing DIY hack – love it!
Other Options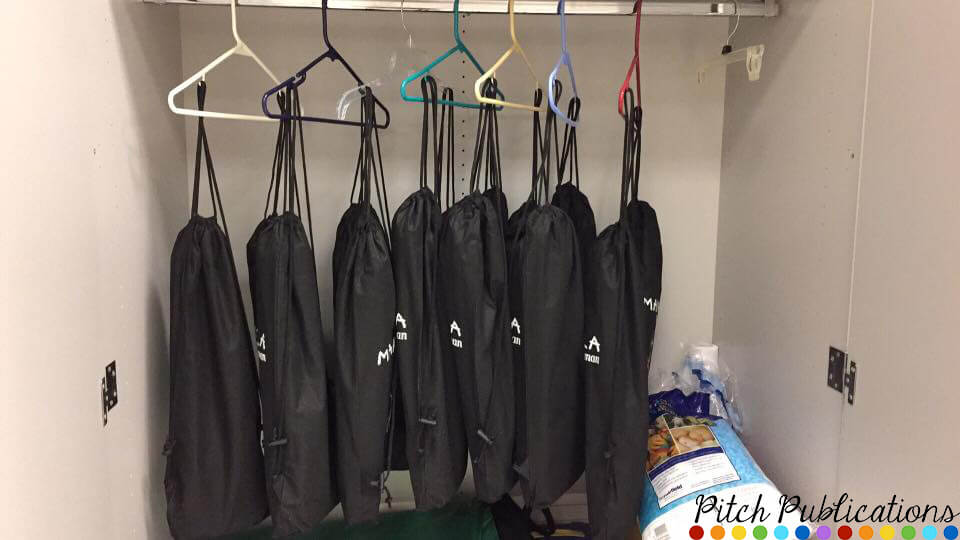 This is a great solution from Liz Klauzer! I love how she made the most of the space she had – I actually store some of my ukes at my house like this, lol! Love it!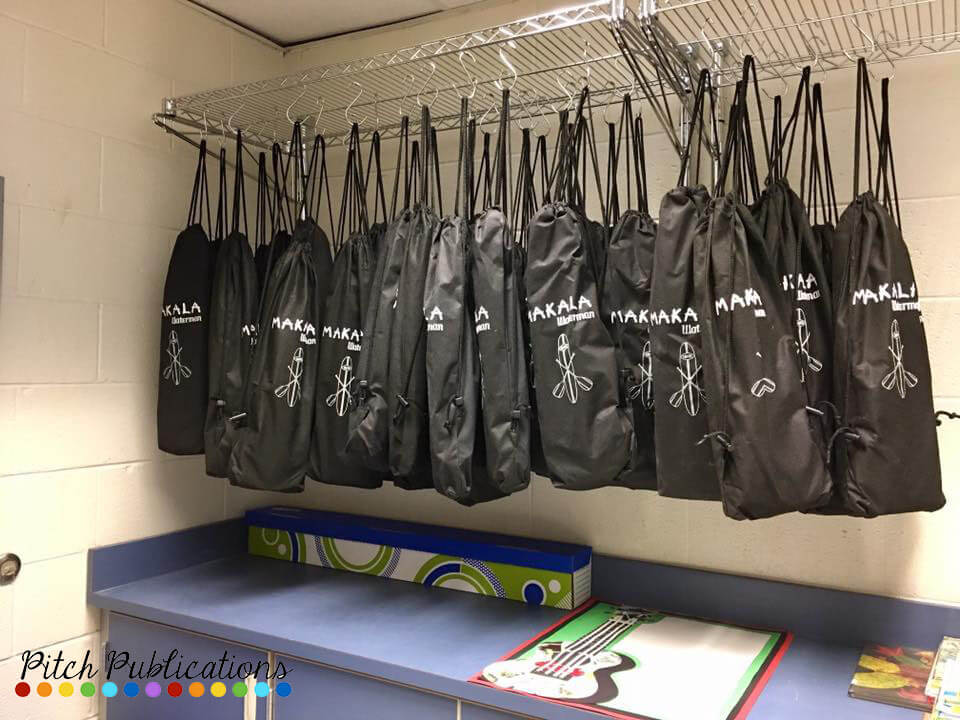 This is a cool option from Michelle Nazare' Naia-Hack! She kept her ukes in their bag and hung 60 of them with S hooks on wire shelves!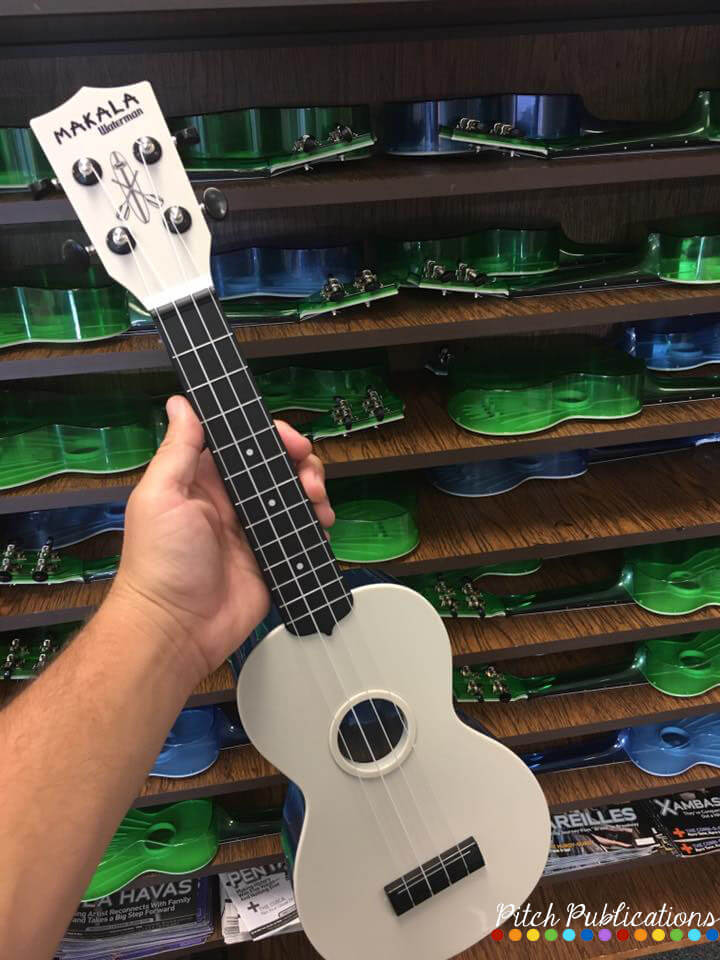 This super cool option is from Josh McFadden. This rolling shelf unit was being discarded at school. The ukes lay strings down 4 to each shelf staggered to fit. When they are strings down it keeps the knobs from being knocked around. I love the repurposing!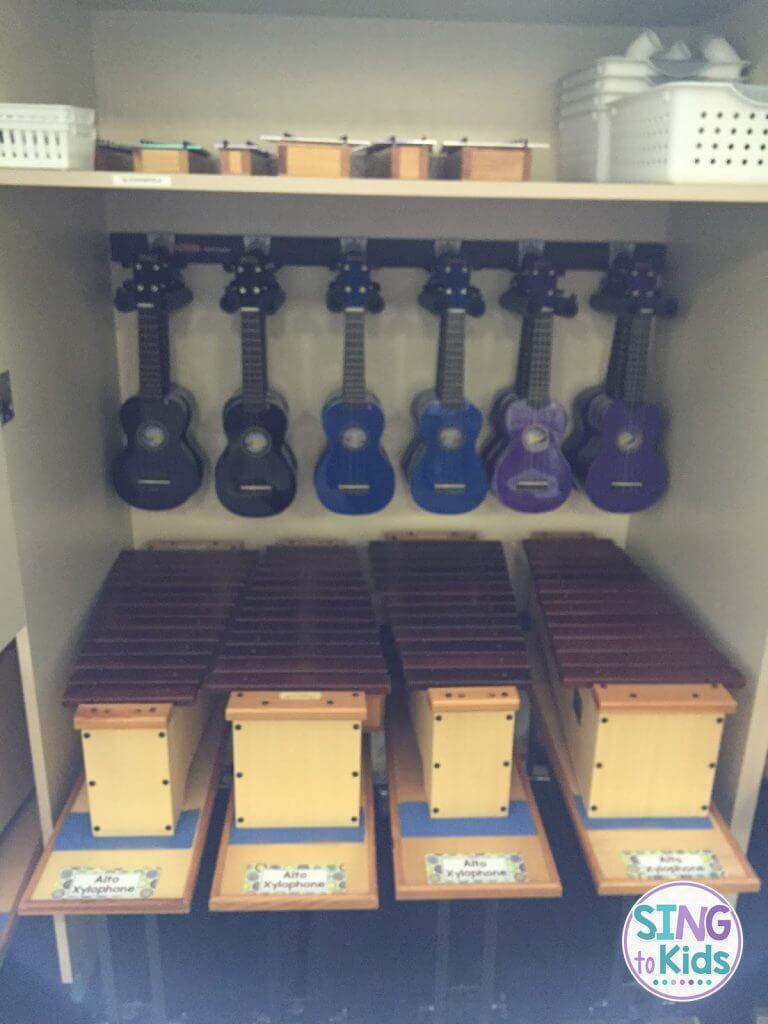 This option is from my friend, Jennifer Bailey from Sing to Kids! I love her option – great space saving! You can read more about her idea here!
Let me know what storage solution you use!
Join the conversation!

Hi friends! I'm excited about my new blog post! It's a compilation of ideas and pictures for ukulele storage in the…Posted by Pitch Publications on Tuesday, January 10, 2017
Curriculum

What do you think? Do you have an idea for storing ukuleles? Shoot me an email if you have a system/photo you would like to share! I would love to add you! Also, remember if you are looking for a great program to teach ukulele, check out Rainbow Ukulele!
Wrapping Things Up
My final advice? When in doubt, bake cookies! (Pillsbury makes an excellent pull apart cookie dough, I must say). A dozen cookies on someone's desk can make them feel warm and gooey inside (pun intended). This strategy has been around since the beginning of time and is a tried and true method.
If you are new at school and looking for lessons for the first day, you might also enjoy this post on first day lesson plans!
Who did I miss? Any other key people in school we should add?
Musically,
Shelley