Ukulele Centers can be a great addition to your ukulele unit! Here's a little bit about the what, how, and why of centers.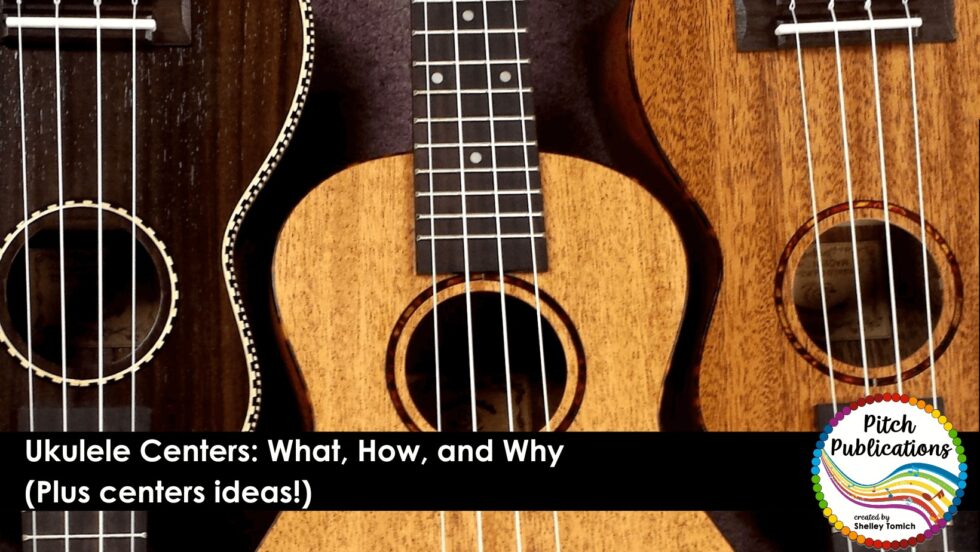 What Are Centers?
Centers, sometimes called workstations, allow students to work on different activities simultaneously, either individually or in small groups. Typically, centers involve activities set up in different parts of the classroom.
How Do You Implement Centers?
Centers can be a wonderful way to engage students in music class. However, they do require a bit of preparation to ensure success. Here are a few tips on how to implement centers:
Divide Your Time
The amount of time students spend in centers should be about 7-10 minutes. You'll also want to factor in beginning and end of class procedures.
For example, if you have 45 minutes of class time with your 5th grade ukulele class, you may start by subtracting 8 minutes for the beginning of class (settling, attendance, centers directions) and 5 minutes for the end of class (clean up, lining up). That leaves about 32 minutes for the actual centers time, You might decide to do 3 centers with 10 minutes at each with 2 minutes of buffer time or you could do 4 centers at 8 minutes each.
Establish Procedures
The most chaotic part of centers can be in the transitions. To prevent mass chaos and keep the class running smoothly, it is important to establish procedures.
I recommend using a timer so students can know how much time they have working on each activity. I usually give students a nonverbal cue to let students know they have 30 seconds to wrap up. I like to blink the lights once.
Once the timer goes off, I blink the lights twice to let students know it is time to transition. Students stand up in their spots and point to the next place they'll move to (that way, if one or two students are pointing the wrong way, they'll be able to adjust quickly and won't end up in the wrong spot).
Once students are all standing and pointing in the right direction, I'll blink the lights again and restart the timer. I emphasize using walking feet to the next place.
From my experience, there is not enough time to introduce, practice, and have time in centers all in one class. If students have never done centers before, I will introduce these procedures and practice a few transitions the week before. Once students know the centers procedures, they'll likely only need a few reminders.
Determine Your Centers
There are many ways you can structure your centers. For example, if you are planning to do ukulele centers, you could structure them around chord practice, TAB reading, or a particular song you're working.
No matter what you decide, I do recommend that there is some sort of theme to your centers so students can make connections. As a bonus, you can ask students at the end of class how all of the centers activities they completed that day relate to each other.
Check out the list below for some ideas of centers you can include specifically for ukulele!
Why Should You Use Centers?
Now that you've learned the how and the what, let's talk about why you should include centers when teaching ukulele. Here are three reasons:
1. Engage Students & Give Them Practice with a Variety of Skills
Centers give students the opportunity to do a few different activities in one single class period. All students can have a chance to feel successful. Plus, since the activity changes quite frequently, it helps to keep students engaged. To get you started, here are a few ideas on ukulele centers you can include:
Centers Ideas
2. Easily Assess Students in Smaller Groups
One of the centers can be a small group of students who interact with you. It can be much easier to assess students in smaller groups than when they are altogether in a large class
If you use the Rainbow Ukulele Motivation system, centers are a great time to do assessments for beads!
3. Give Your Voice a Break
Sometimes, your voice is tired, whether from lots of singing or feeling under the weather. Centers can be a great way to help your voice rest.
As I said earlier in the "how" section, many of the cues I give to students to transition are nonverbal. Speaking and singing during centers days are minimized
Centers in Your Classroom
Have you used centers? What are your favorites? Comment below!