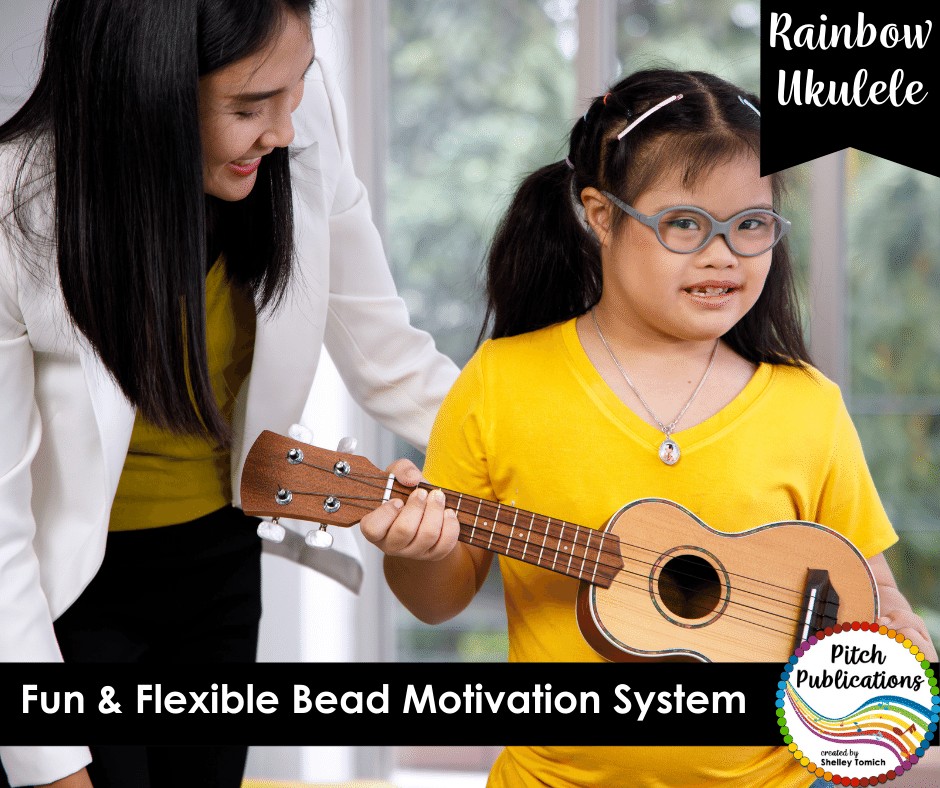 I designed the Rainbow Ukulele Bead System with student motivation and teacher flexibility in mind! It was one of my favorite tools to use when teaching ukulele.
Why use the Rainbow Ukulele Bead Motivation System in your classroom?
Ability to customize system to your students and classroom
Motivates students to practice
Affordable & budget friendly
Visual way to share progress with families
While implementing this system is absolutely not required to use Rainbow Ukulele, I found my students were really are motivated by adding beads to their keychain.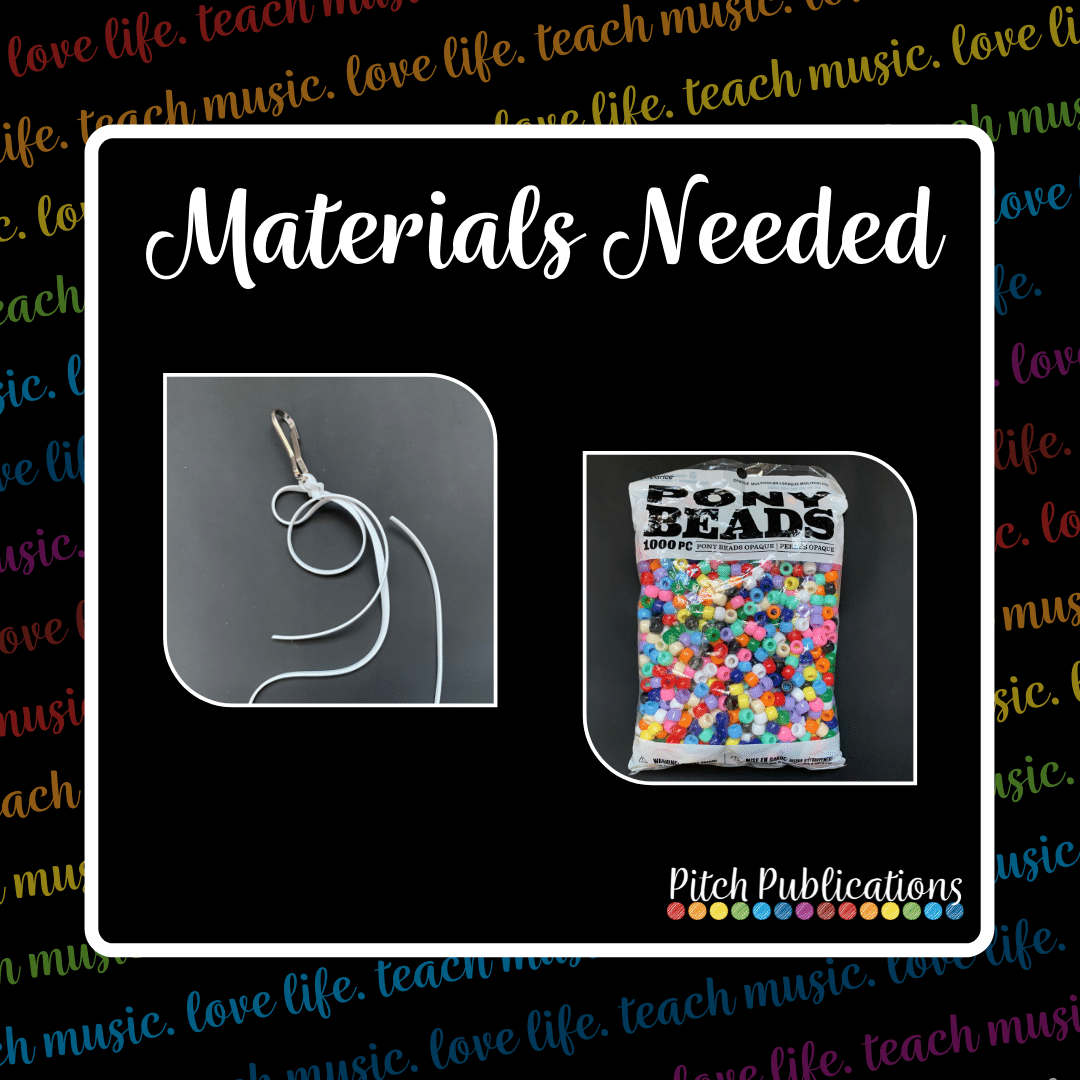 Materials Needed to Implement the Rainbow Ukulele Bead Motivation System:
Pony Beads (3 different types: clear, opaque in various colors, and a specialty bead of your choice)
Plastic Lanyard Lacing
Keychain
Teacher Tip: How to Keep Beads in Place
Show students how to loop the plastic lanyard lace through the final bead to secure the beads in place. This will prevent beads from spilling out of the keychain. See video at the bottom for more information.
Types of Beads: Responsibility Beads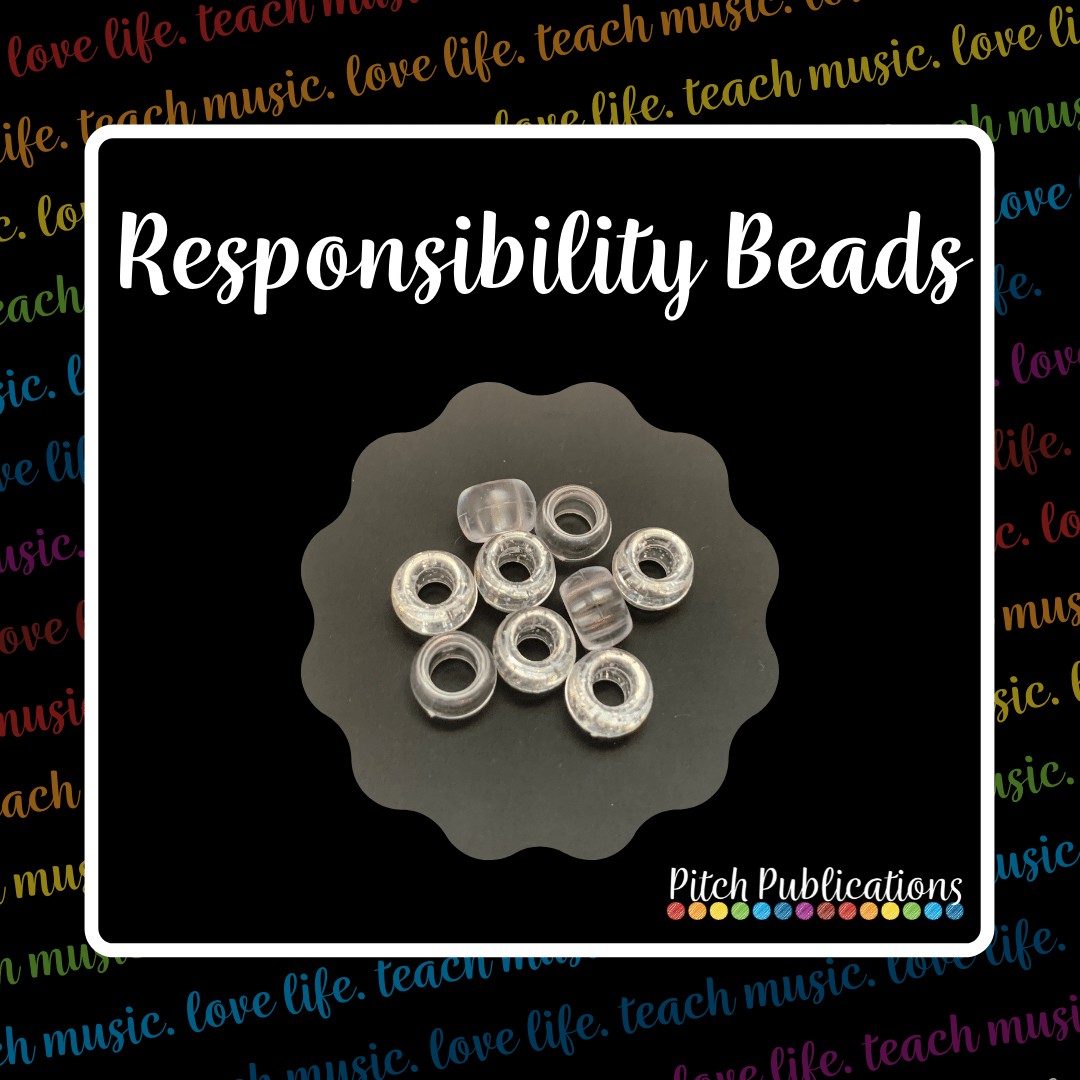 Responsibility beads are clear and students have a chance to earn them every class period by bringing their materials. I required students to bring their Rainbow Ukulele folder to music class. If they did, they earned one clear responsibility bead.
Option to customize: students can earn responsibility beads for whatever you require them to bring to class (i.e. pencil, tuner, ukulele case, felt picks).
Types of Beads: Task Beads
Task beads are opaque and students earn these by accomplishing milestones in the Rainbow Ukulele program. I try to keep it simple and full of chances to earn. Students can earn beads for holding the uke, playing a chord, tuning the uke, and accomplishing specific songs.
Option to customize: I use a different colored bead for each task, but if you are overwhelemed by the thought of this, you can edit the number of colors. Both the digital student and teacher Rainbow Ukulele sets come with an editable task bead file.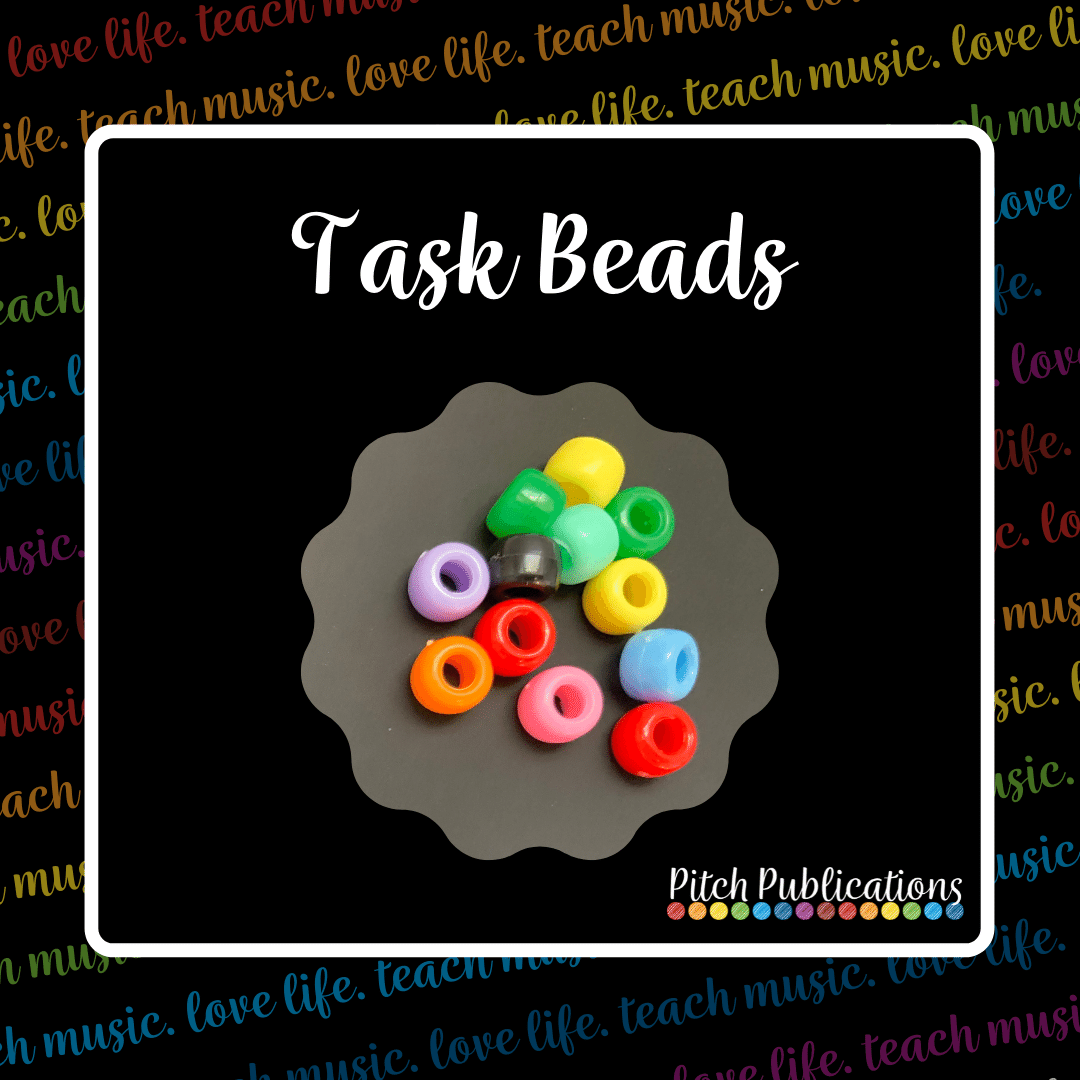 Types of Beads: Behavior Beads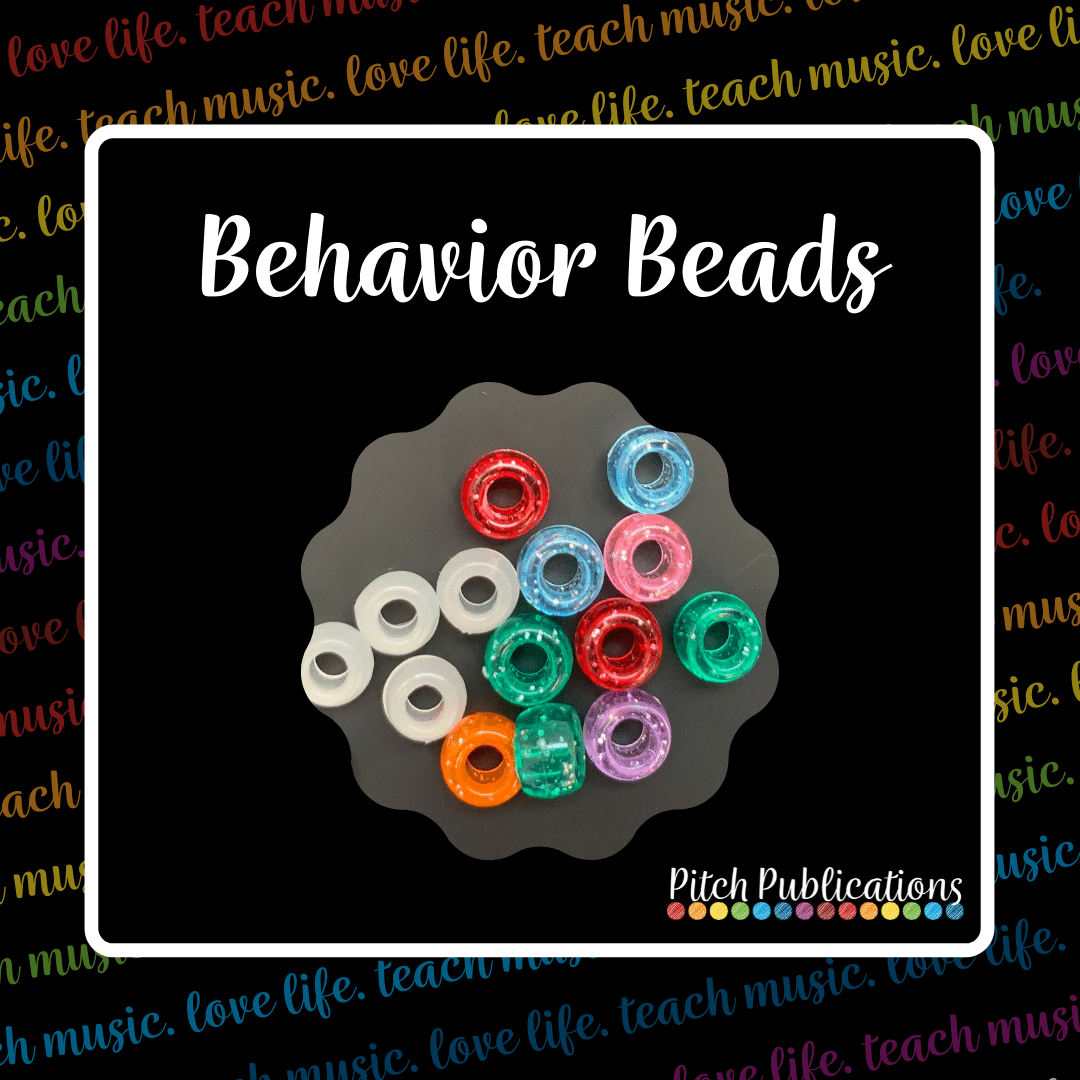 Behavior beads are specialty beads(such as glow-in-the-dark or glitter beads) and students have a chance to earn them by displaying positive behavior. I gave out a music award at the end of each class called the Big Hand Award. While my K-3 students loved the certificate, my 4th and 5th graders kind of knew it's just a piece of paper. So they also now get a special bead to add to their keychain.
Sometimes I would randomly hand out behavior beads to students who helped out in class, did a random act of kindness, or just to reward students doing a good job in class that day.
Option to customize: If you feel overwhelmed by the amount of beads, this is one type of bead you can easily eliminate or change to fit your school's behavior management system
Teacher Tip: Assessing Students & Handing Out Beads
Use Student Helpers
Students can help with passing out beads at the beginning or end of class. I had a student pass out responsibility beads for me while we did our composer of the month listening.
Don't Forget About Classtime
Use some classtime for students to practice and for you to conduct a few quick assessments. Centers are also a great way to assess a few students at a time!
Have you ever used a motivation system to help students learn ukulele? What do you think of the Rainbow Ukulele Bead System? Let me know in the comments below!