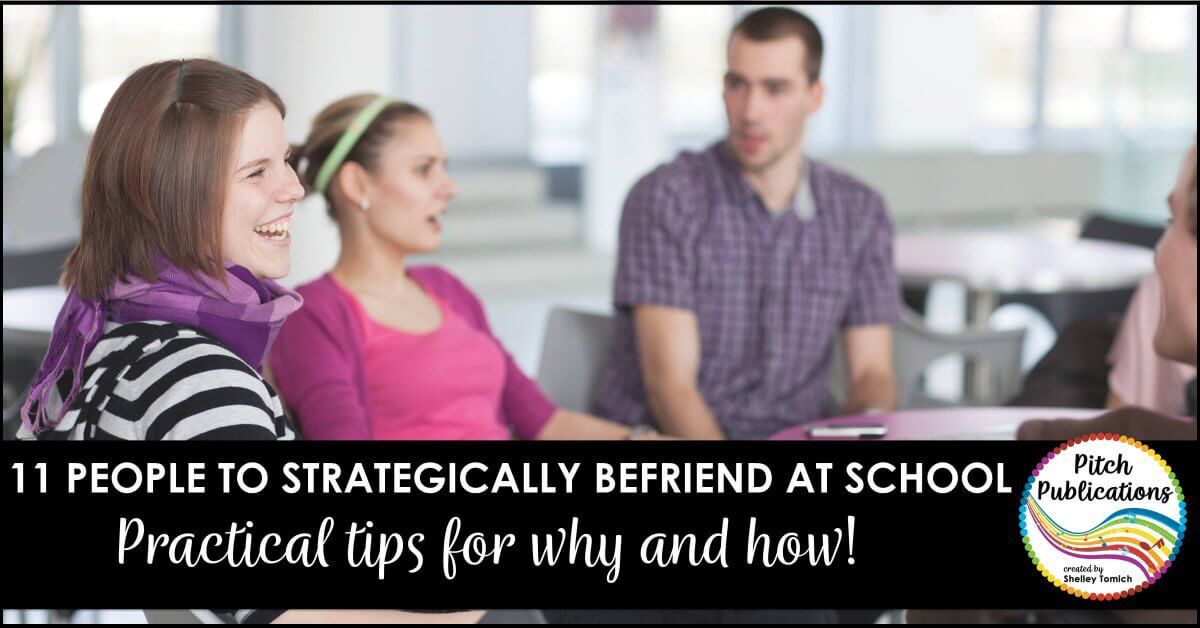 When you are a new teacher (or starting at a new school), it's good to make some strategic friends. These relationships may happen naturally or may take some work. Either way, they are essential to make sure your year runs smoothly.  Check out these 11 people to strategically befriend at school!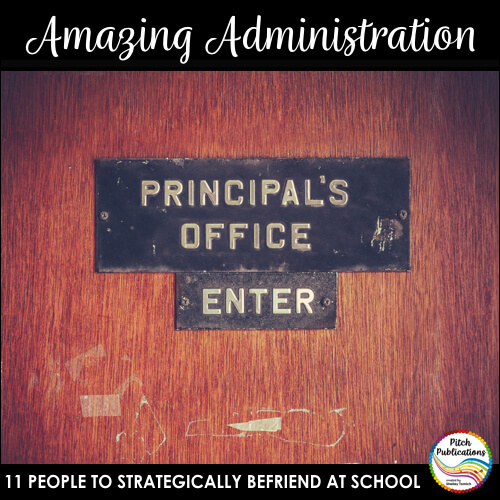 1. Amazing Administration
I am surprised at how many times people don't make an effort to befriend their admin. It will be a different kind of relationship because they are your boss, but you should still make an effort. Administrators are kind of like you – they are usually one of a kind in a building and that can be isolating. When you see them, ask them how their day is! Ask how their children, grandchildren, gardening, etc. are doing. They may not go into a lot of details, but they will appreciate the gesture. I find many teachers are scared to chat with their principal!
Professionally, when they ask a favor of you, just do it (especially during the first month or two of school). They appreciate that 30 minute bus duty coverage more than you could know! You are now seen as a team player and positive person.
I find that I am calmer in an evaluation situation when I know the base relationship is solid. Plus, you know that day you need to leave early? They are more likely to do you a favor if you have done them a favor.
Our front desk personnel are superheroes. They know everyone in the school and their families. They produce newsletters and can make copies in a pinch. At my school, my front desk superhero was in charge of scheduling rehearsal spaces (need I say more?).
They deal with all the crazy people in school – parents, teachers, and admin alike! Best way to win them over? Be super kind! Smile at them and tell them thank you for doing their job. Like, thank them every day. They are first line of defense when unhappy people come in the school. They appreciate those smiles!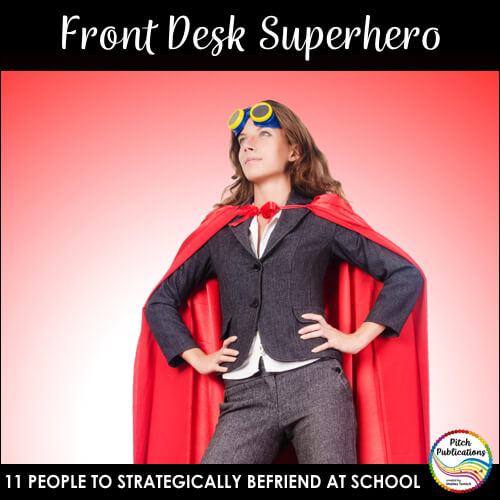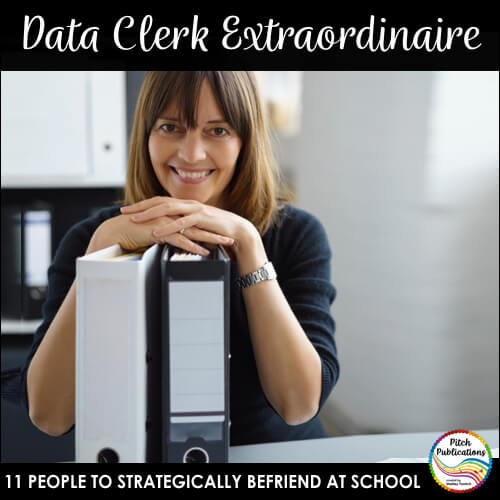 3. Secretary/Data Clerk Extraordinaire
This is the amazing lady/gentleman that is going to give you a peek at class lists and schedules. They deal with all the backend administrative work. They usually also sit in the office and hear EVERYTHING. This person knows IT ALL!!! This person is an excellent source of general information.
They also appreciate positive attention. Parents don't know much about what they do, and most of the staff do not report to this person. Make it a point to drop by and say hey. Find out about their family and interests. Then ask about them! During staff appreciation day, share some of the gifts you get with them! Parents rarely think to treat the office staff, especially ones behind the scenes.
4. The Keeper of the Budget
The person in charge of the money needs to be on the top of your need to know list. The school bookkeeper will be the one to find a way to squeeze you those extra funds you desperately need. They also know the best time to ask admin for approval. Sometimes they can actually do the approval themselves! They might also know the best places to get a good deal on the things you need.
Follow the same kindness and interests routine I have already mentioned. But also follow procedural directions! This seems such a simple thing, but makes a huge difference. When making a purchase or deposit, fill out forms exactly. Organize checks and have all necessary information ready when you bring paperwork to the bookkeeper.
Too many teachers drop off a bag with cash or email the bookkeeper with "please order 10 pencils and 8 folders." Don't do this. It is a headache for the bookkeeper. They may smile and say it's no big deal, but they are complaining about you behind your back. Promise.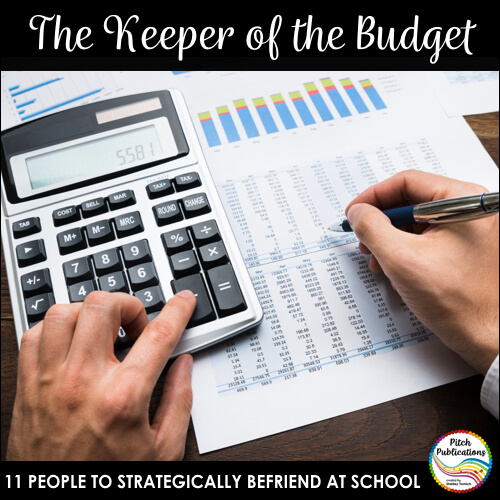 5. Commanders of Cleaning
Once upon a time my school had a full custodial staff. Now we are budget restricted to a couple of staff members and contract cleaners. Your custodial staff probably misses the days they had a full department.
Seek out your custodians and say hello! These fabulous individuals often feel invisible at school. They appreciate it when people include them in staff activities.
When it is time to set up and break down for concerts and events, pitch in and help! I know it's not technically your job, but they will appreciate the effort. Because of your event, they have extra work to do beyond their normal daily tasks. If you don't want to do it, have kids and parents help!
Let custodians know WAY ahead of time what your schedule for the year is. Send them an email listing the dates and exact equipment needed. Don't write I need "some chairs" – write I need "120 chairs in two rows 10 feet from the stage." They are not mind readers.
We always had a problem with the contract cleaners who didn't have much of a stake in the school. (They were not employees of the school but of a cleaning company). One day I left cupcakes and a note saying thanks for making my room shine. Guess who never had to complain about contract cleaners not getting the job done?
6. Exceptional Students Case Manager Masters
Be sure to get to know your students' exceptional student case manager. This person has a super tough job and is sometimes treated as secondary to the classroom teacher(when in fact they are sometimes more crucial to a child's education!).
Connect with them and ask what you can do to help their assigned students in specials classes. This is a win-win-win situation for you, the child, and the exceptional students' teacher. Legally, you will have to make accommodations that are in students' IEPs/504s/etc but sometimes the case managers can let you in on little things that can help your students, but don't appear in their legal documents. Make it a habit to check in with these case managers – it can make a big difference in your classroom!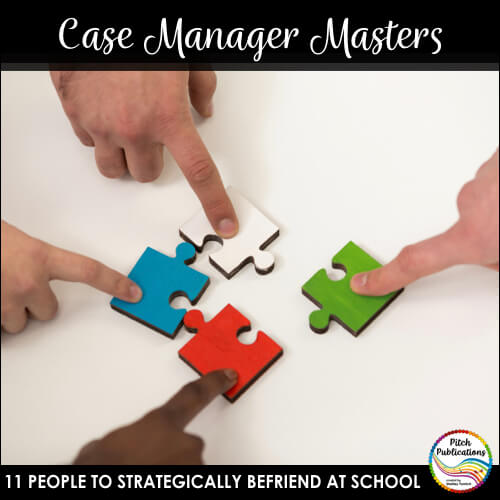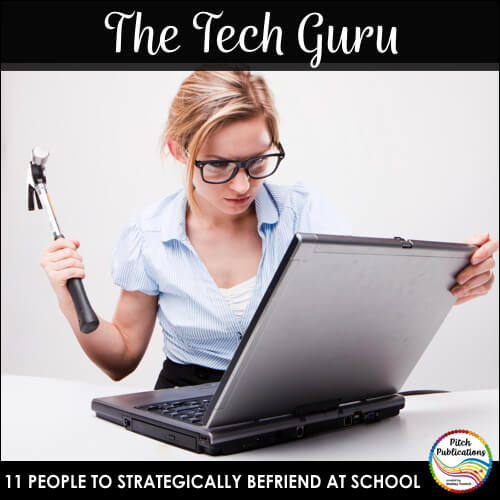 I am super techy and can handle most of my own tech problems. But sometimes, the problem is either 1) actually beyond my skills or 2) I don't have the district level permissions needed to fix it. The technology specialist can make or break a lesson for you. If you befriend them, they will skip lunch to help you. If not, your repair ticket can get "lost" several times.
Continue the general interest and kindness routine but also help yourself. It may not be your job to plugin your computer and keyboards, but come on! There are about 100 teachers at school. If 90 of them could set up their own computers, the tech specialist would save so much time! I know they may need to come in and do some district formatting, but you know what a power cord looks like…. right? (I understand some schools have ridiculous rules about who touches the tech, but if you can do it, do it!).
Also, Dr. Google is your friend. Type in your problem -"My promethean board is frozen with a red screen and a purple x." Half the time, 10 other people have had this problem and it will take you 5 minutes to fix it. Still can't work it out? Then go to the tech.
8. The Ever-Present PTO President
These are the parents in the school that know everything about everybody (or at least some of them
think
they do). If you get in good graces with these people, you are pretty much golden for most of the community.
They make their opinions strongly known about teachers. Many other parents like to follow their lead. You can't make everyone happy, but you can try! It makes life a little easier when it is time for volunteers/budgets when PTO supports your program. Plus, no one wants to deal with parent complaints.
Help spread the word about PTO. Let the PTO president say a couple of words about joining the PTO before concerts. I also let them auction off some reserved seating and parking at our concerts. It's really the little things with them!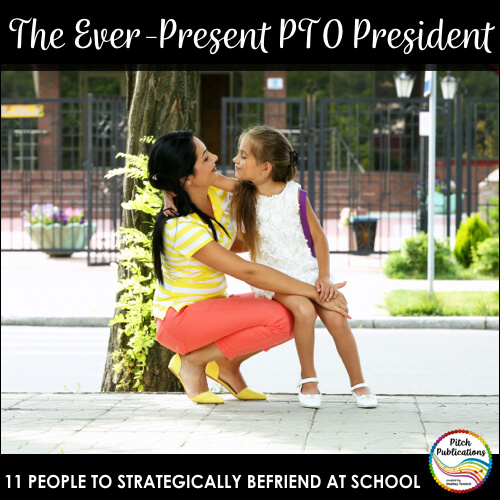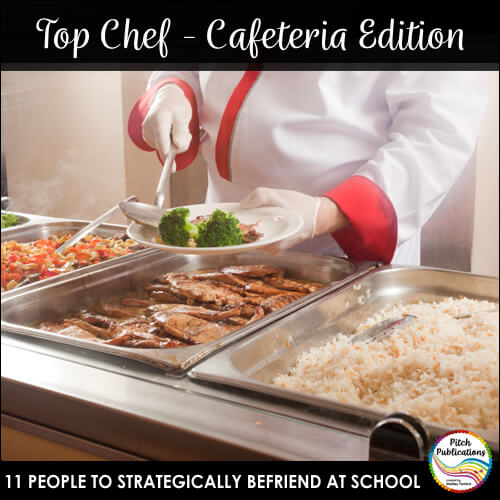 9. Top Chef – Cafeteria Edition
When I first started teaching, I didn't think my job had ANYTHING to do with the cafeteria! Turns out my stage WAS the cafeteria – oops! I made sure to let this person know in advance of any scheduled events. I also thanked them for the use of their space (I don't think they could actually say no, but still, it is a nice thing to do).
Be kind to them and buy lunch from the cafeteria from time to time. Cafeteria managers take pride in the lunches they make. Cheesy ravioli might not be my favorite, but I survived eating it a few times.
The cafeteria manager was the one to hook me up with a hot chocolate machine when I wanted to treat my chorus. They also helped me save cans and buckets for instruments and props. And, those milk crates they get? GOLDEN for storage!!
This advice applies to all classroom teachers, but especially the grade level leaders. They often set the tone for the entire grade level!
You know how stressed you are? Well they are stressed out too. No, they don't understand how stressed you are. They might even mistake your job for being easy (ha!), but you also haven't walked in their shoes. They have their own struggles.
Talk to these teachers for those few minutes that they are dropping their kids off. Ask how their day is going. Update them on how Johnny did in class (not so they can discipline – that's your job, but so they just have the knowledge).
If they are late a couple of times, tell them it's no big deal. I'm not talking about Late Lindsay who picks up her class 10 minutes late each time. Sometimes we do have to address these situations. When Jane is late because she ran to the bathroom after the team meeting, which ended the same time as specials? Cut her some slack.
If you have a standard you love to teach and correlates with their grade level standards, offer to help! I LOVE LOVE LOVE teaching the science of sound (which is in the 1st and 4th grade curriculum in GA). I do a unit with my kids each year, and my teachers LOVE it! I just made their job easier literally by doing my job.
If a teacher asks for a scheduling accommodation, try to do it! I know it's not ok that Johnny misses music for a makeup event, but what if it is just one time? There is ALWAYS an exception to the rule.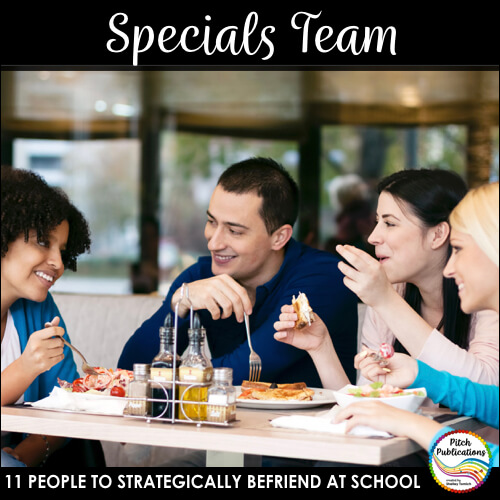 11. The True Winners – Specials Teams
You absolutely need these people. You will be super lonely at work if you do not make work friends. Best place to start? The fellow specials teachers at school – Art, PE, Dance, Technology, etc. These are the people that are walking a similar path.
Hopefully your rooms are close, but if not, you may have to seek them out. Once a week, my team had a special area lunch where we took our lunch break together in someone's room. We didn't talk business unless we wanted to. This wasn't a PLC meeting or formal time to take notes, but simply a time to be together. Most of the time we chatted about our personal lives.
These people are the ones who understand problems in scheduling, or how annoying it is when Late Lindsay is not there to pick up her class. Again. These people also are the ones that can help you run talent shows. They make backdrops for your programs. They might even give up their class for a week so you can see a whole grade level at once for musical rehearsal! On the flip side – help out with field day and hang pictures for art shows! Be a team – these are your people!
My final advice? When in doubt, bake cookies! (Pillsbury makes an excellent pull apart cookie dough, I must say). A dozen cookies on someone's desk can make them feel warm and gooey inside (pun intended). This strategy has been around since the beginning of time and is a tried and true method.
If you are new at school and looking for lessons for the first day, you might also enjoy this post on first day lesson plans! 
Who did I miss? Any other key people in school we should add?