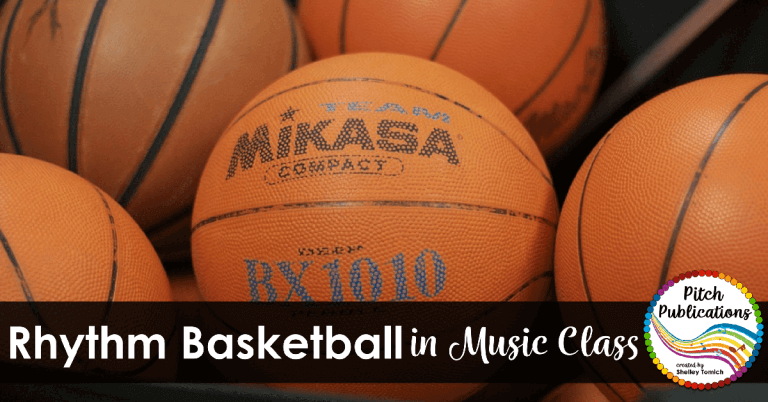 We are finishing up Unit 1: Rhythm and I feel like I have brought out all the "old material," already tried some cool new material (like centers!), but was still missing something. I have great rapport with my kids, but sometimes have a hard time reaching my "too cool for school; all I love is sports" kiddos.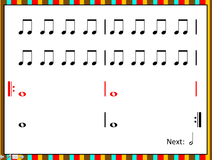 I also needed a way for them to be actually practicing reading the rhythms. Therefore I created a self-advancing PowerPoint presentation and timed it so that the notes they dribbled highlighted in red. I also made a version for us to practice with that did not self-advance. (I learned the hard way that you needed slides that did not advance to the next slide in the middle of your explanation!).
My kids performed a variety of songs depending on the class, level, and needs of the class. I made presentations for "Take Me Out to the Ball Game," "Beauty in the World" by Macy Gray, "Fireflies" by Owl City and "Yellow Submarine" by The Beatles. They are all included in the new resource on my TpT store along with the accompanying lesson plan for 4th and 5th grade!
Student Examples
Here are my kids doing "Beauty in the World." It isn't perfect, but it was a great way to differentiate the way to present rhythm to my kids.
Here are my kids doing "Fireflies." They LOVE this one!!
You will have to supply the music, but I included instructions on how to attach it to the PowerPoint – anyone can do it, promise!. Here is a short instructional video on how to attach the songs.
If you have trouble or the timing is not working out, contact me and I can help!
This was a great lesson and a great way to get the kids excited about playing rhythms. I am using it as a transition into bucket drumming next week.
I hope your kids enjoy Rhythm Basketball as much as mine do!
Wrapping Things Up
My final advice? When in doubt, bake cookies! (Pillsbury makes an excellent pull apart cookie dough, I must say). A dozen cookies on someone's desk can make them feel warm and gooey inside (pun intended). This strategy has been around since the beginning of time and is a tried and true method.
If you are new at school and looking for lessons for the first day, you might also enjoy this post on first day lesson plans!
Who did I miss? Any other key people in school we should add?
Musically,
Shelley