Selecting the best baritone ukulele for your students can be a daunting task, especially when you can't try the instrument out before you buy it. Here at Pitch Publications, we did the work for you! I tried out baritone ukuleles so you can compare options and decide which is best for your music class. Something important to note: this is just one opinion and what works well for me might be different than what works well for you.

Baritone ukuleles don't have quite as many options as their soprano counterparts. However, there are still plenty of options to consider. I played all of the following over the course of a few weeks. All of the ukuleles could be purchased on Amazon or through a music vendor such as Music and Arts or West Music. All of the models below were under $100 at the time of purchase.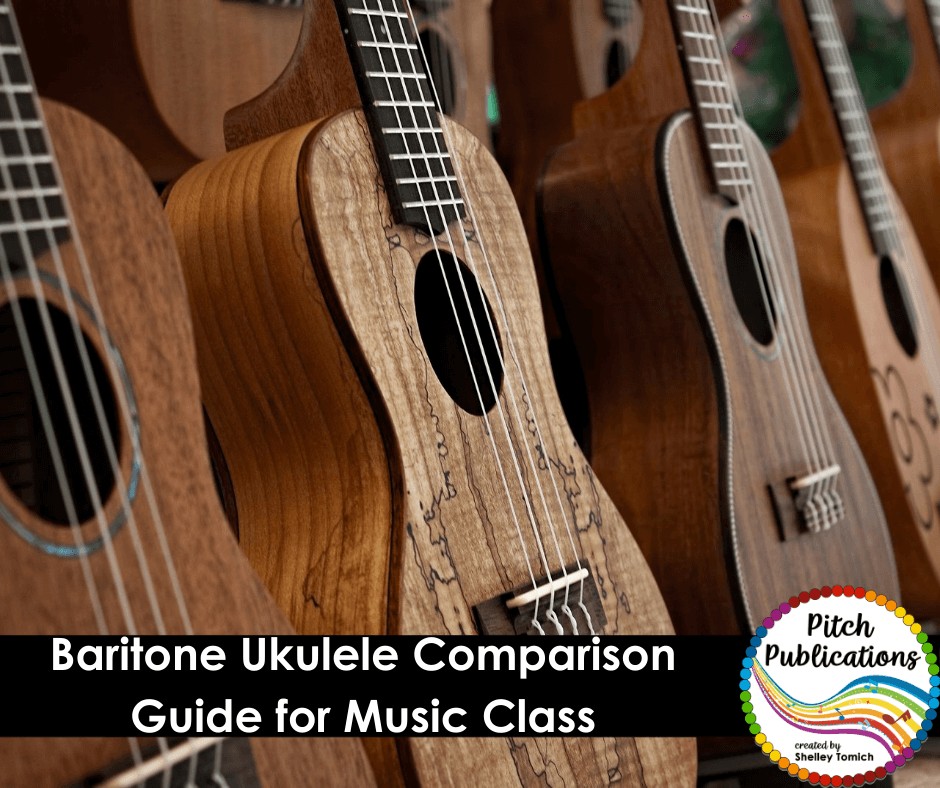 Makala MK-B Baritone Ukulele
Materials
Mahogany body
Walnut fingerboard
Plastic saddle, nut, and tuning pegs
Pros
Great sound
Well constructed
Comes with Aquila strings
Strap button
Adjustable truss rod
Cons
Most expensive of the introductory models I tried
Kala Ukuleles are tried and true so it's no wonder that their introductory level baritone ukulele is an affordable, quality instrument. Out of the instruments I tried, this one certainly had the best sound and the tuning held up well over time. Although the price point is a little bit higher, the benefits of this ukulele model more than makes up for the extra cost. Even if you don't end up going with this ukulele for your students, it would be a great teacher model.
Find the Makala MK-B here.
---
Westwood WU Baritone Ukulele
Materials
Sapele body and neck (sapele is similar to mahogany)
Plastic saddle, bridge, and tuning peg
Pros
Price point
Comes with Aquila strings
Sapele body may be more resistant to scratching
Strap button
Cons
Construction concerns (rough fret edges, nut was not aligned with the rest of the neck – see picture)
Buzzing strings due to bowed neck and no adjustable truss rod to fix the issue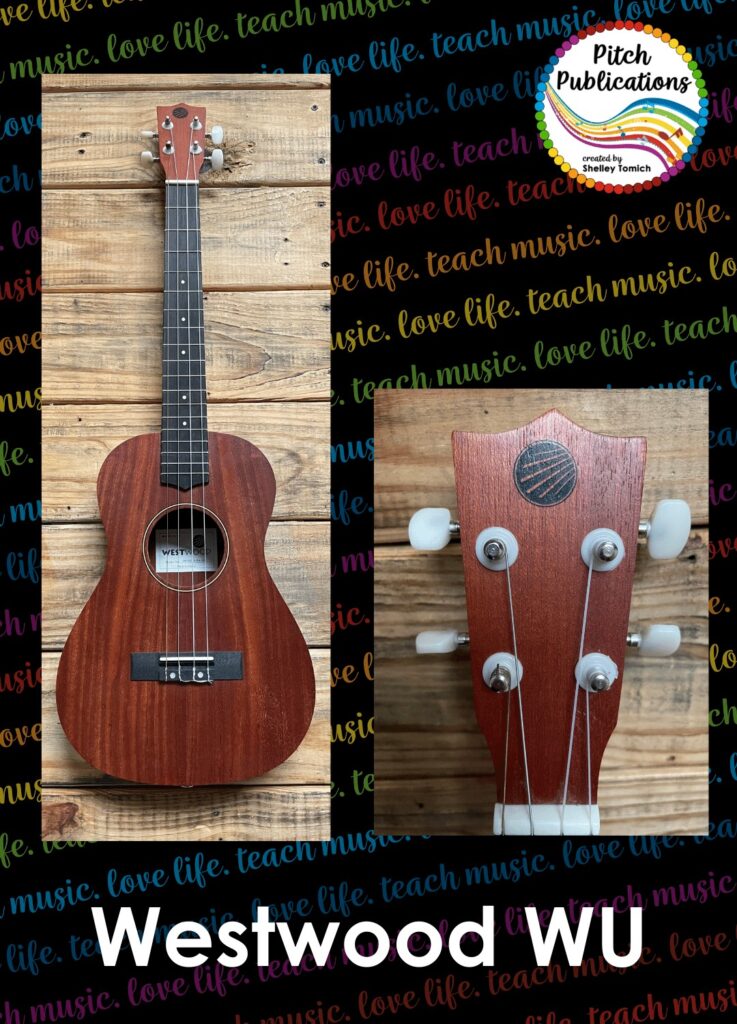 West Music is a go-to for quality classroom instruments. They offer a wide range of ukuleles, including their own brand, Westwood. The price point of this ukulele is affordable for music classrooms, but it seems to fall short on quality. I'm not sure if I got one that was a fluke or one-off because a review on the West Music website raves about the quality. If you plan to go with West Music's Westwood brand of ukuleles, I recommend getting one for yourself to try out first before purchasing an entire class set.
Find the Westwood WU Baritone Ukulele here.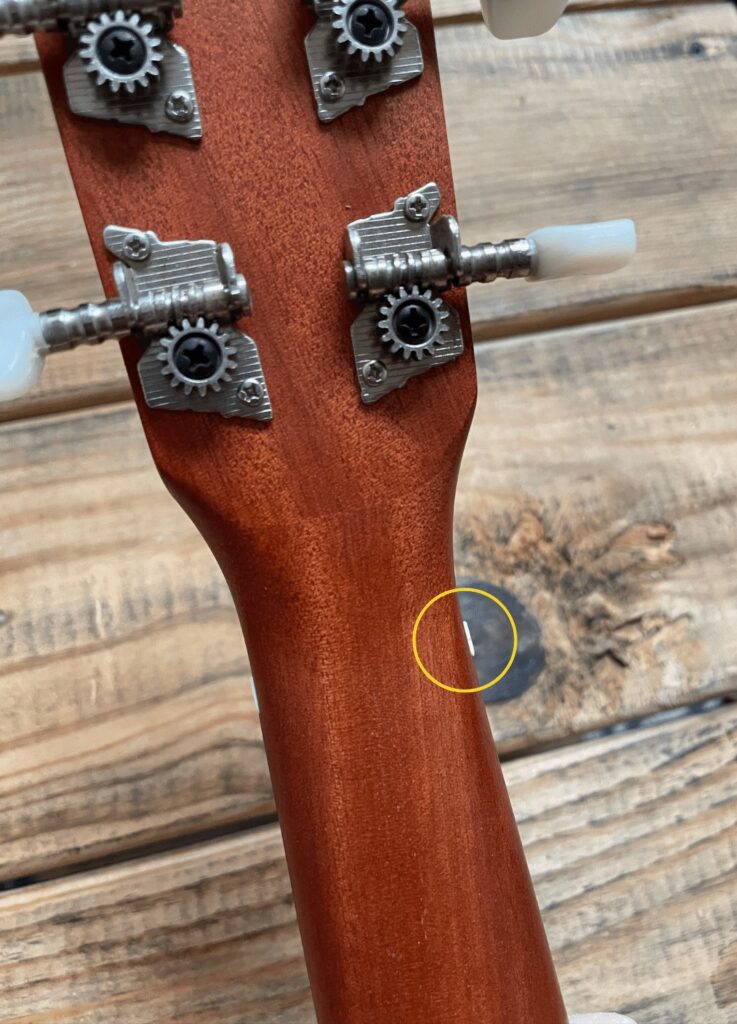 ---
Kmise WU Baritone Ukulele (*GCEA Tuning)
Materials
Mahogany body
Rosewood fingerboard
Bone nut/saddle
Pros
Price point
Comes with Aquila strings
Good sound
Adjustable truss rod
Cons
Comes strung GCEA (like a soprano)
If you restring to DGBE, you'll have to add in extra costs for strings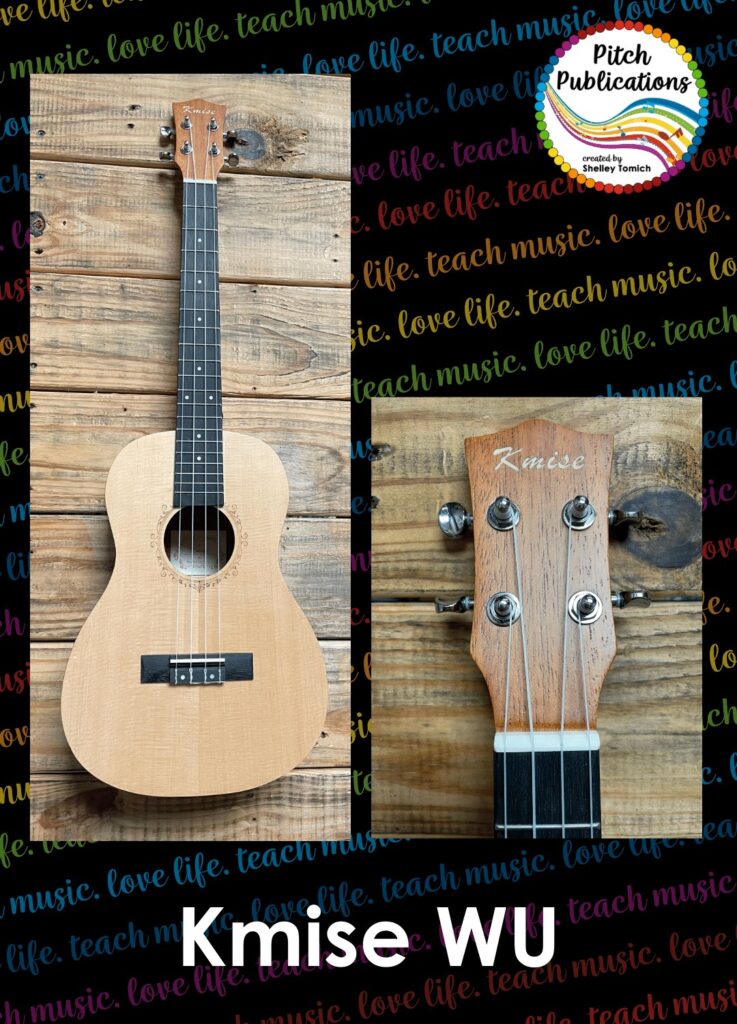 Whenever I order instruments from Amazon, I always worry a toy will show up instead of an instrument. I was pleasantly surprised when a beautiful, well-made instrument showed up on my doorstep. Then, I began tuning and noticed something was off…way off. I realized the strings were GCEA and not DGBE as I thought they would be.

If you're looking for a baritone strung the same way as a soprano, concert, or tenor ukulele, this would be a great buy. However, if you're looking to use the typical, more common DGBE, it's going to take some time and the cost of strings to get there. Multiply that by a class set and the time/costs really start to add up.
Find the Kmise WU Baritone Ukulele here.
---
Curriculum
What do you think? What do you use for your program?  Are there any brands or models that I missed?  Do you agree or disagree with me? Comment below!  Also, remember if you are looking for a great program to teach ukulele, check out Rainbow Ukulele (Baritone Edition)!