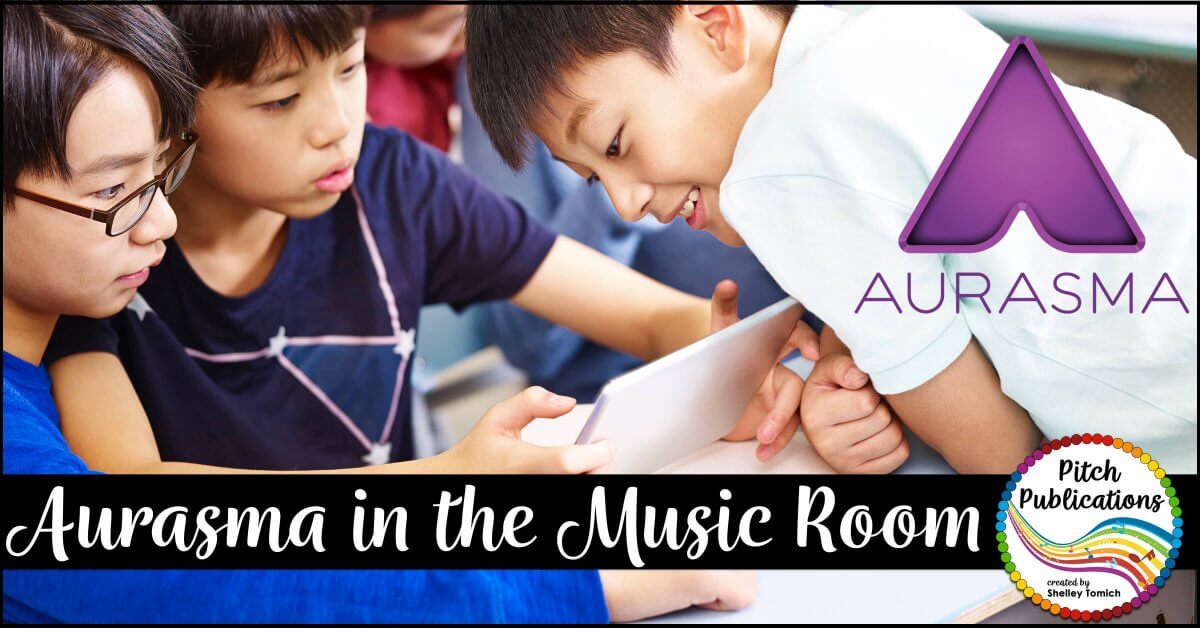 Aurasma in the music room is going to blow your mind! It has so many possibilities for both teacher use AND student use!
First, what in the world is Aurasma?
Aurasma is a FREE app for iOS and Android devices.  It uses advanced image recognition to blend a 3D image/video onto a 2D image.  These blended images are called "Auras."
Ok, what?
Think Harry Potter – do you remember all the talking and moving paintings on the wall?  It is a lot like that. Though Harry Potter used magic, we are going to use technology!
When someone holds the Aurasma app over a pre-marked picture, it will bring that picture to life.
In some cases, Aurasma can be used to replace previous QR code activities.  Some differences include the ability to stay in-app for most of your activities, create linked videos in-app, and linking a picture of your choosing as the trigger.
Still don't get it?  Check out this video:
What Can You do With Aurasma in the Classroom?
Student created book trailers.
Supplement textbooks.
Embed video tutorials for homework.
Word Walls that come to life.
Foreign Language vocabulary.
AR scavenger hunts.
Tag equipment in schools with virtual manuals.
Tour of the school.
Interactive bulletin boards (have pictures come to life for performances!)
School newsletters come to life!
What Have I Done with Aurasma?
One of the biggest things I do is to use Aurasma as a way to "clone" myself in the classroom. I record myself reteaching or giving instructions for an activity and if a kid gets stuck, first place they can go to is re-listen to instructions or get helpful hints.
Aurasma Terms to Know
Aurasma – name of the app.  Pronounced "Or-Az-Muh."
Trigger Images – the image used to kick-start an interactive experience.  This image can be anything!
Overlay – the video or other experience that appears when a user scans the trigger image.
Auras – What the experience is called when someone is using Aurasma.  This is the combined effort of trigger images and overlays.
Channel – You must follow someone's Aurasma channel in order to actually see their aurasmas.  Once you start following a channel all of a user's aurasmas should play appropriately.  Think of it as like following a Facebook page in order to actually see what they are posting.  You can set up a QR code to follow someone's channel.
An example of Aurasma
First, you must go download Aurasma  and follow my channel.  Scan this QR code to follow my channel.  If you don't have Aurasma, you will need to scan it twice.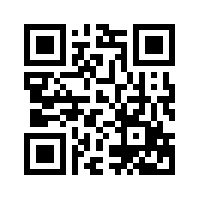 Now that you are following my channel, let's try a couple!  This the "Test Aurasma" I use the first day just to get kids used to the app. They just needed practicing.  All you have to do is open Aurasma, and scan this picture with the bouncing dots.  Don't see the bouncing dots?  Click the square in the middle at the bottom of your screen.  (It does take some playing around to get the aura to populate!).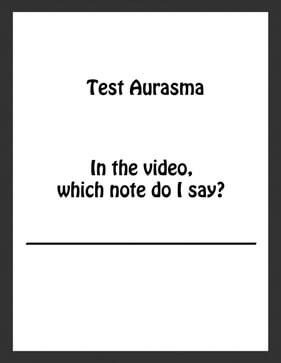 Next, this is a lesson I did with the app, The Rain, Rain Story App (ETA: 7/1/2019 – this app has been removed from the app store).  SO CUTE for Sol, La, Mi and Quarter, Eighth practice!  Students had to listen to the rhythm pattern and notate it. I had them start the activity and if they got lost, use the aurasma app.  I was able to basically duplicate myself for my little 1st graders who just needed a push in the right direction! I could go work with the kids who REALLY needed the help!  Try scanning this picture and check it out!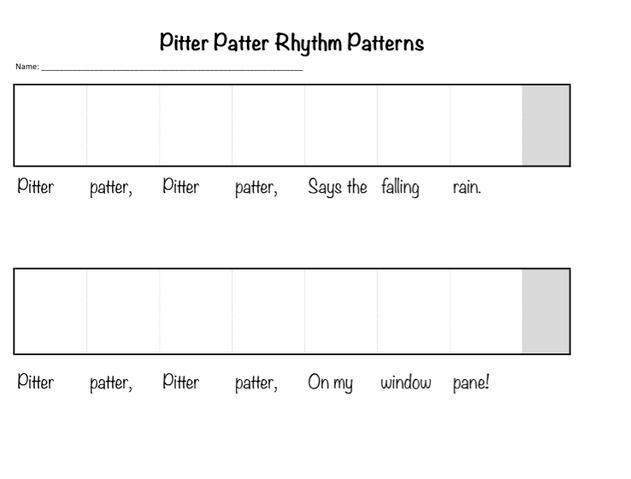 Want to make your own?
Join my email list to have access to the free Aurasma Get Started Guide found in the free resource library! 🙂 . (Check your email for details or click here to enter it if you already have the password).
My final advice? When in doubt, bake cookies! (Pillsbury makes an excellent pull apart cookie dough, I must say). A dozen cookies on someone's desk can make them feel warm and gooey inside (pun intended). This strategy has been around since the beginning of time and is a tried and true method.
If you are new at school and looking for lessons for the first day, you might also enjoy this post on first day lesson plans! 
Who did I miss? Any other key people in school we should add?