I wrote Pitch Hill my second year of teaching 10 years ago!  I was attending a professional development conference and was doodling on the handouts they gave us. Part of the conference was on the power of literature in the music classroom – the power of a story.  I had been struggling with teaching solfege as I could barely sing it myself.  I started imagining each note as a character and the idea of Pitch Hill was born.  I wrote down a story for Sol and Mi (the characters we were working on at the time) and mapped out the rest!
I started in a trailer without any real technology other than an old CD player and a chalkboard!  I didn't even have a white board!  I was still able to teach Pitch Hill after getting a set of colored chalk.  After a few weeks I made some crude magnets by using some shapes in Microsoft Word.  Here is a picture of some of the original characters.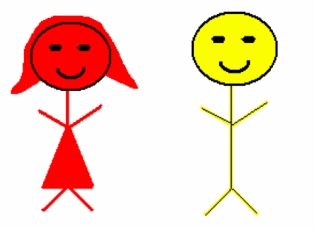 The colors were all very different as I chose the colors based on what color chalk I could find at the time. I eventually changed the colors to match the rainbow and other color-based music items.  The acquisition of more technology in my room has made it easier to create materials to supplement the story but the basic method hasn't changed all that much from those days in the trailer!
My final advice? When in doubt, bake cookies! (Pillsbury makes an excellent pull apart cookie dough, I must say). A dozen cookies on someone's desk can make them feel warm and gooey inside (pun intended). This strategy has been around since the beginning of time and is a tried and true method.
If you are new at school and looking for lessons for the first day, you might also enjoy this post on first day lesson plans! 
Who did I miss? Any other key people in school we should add?