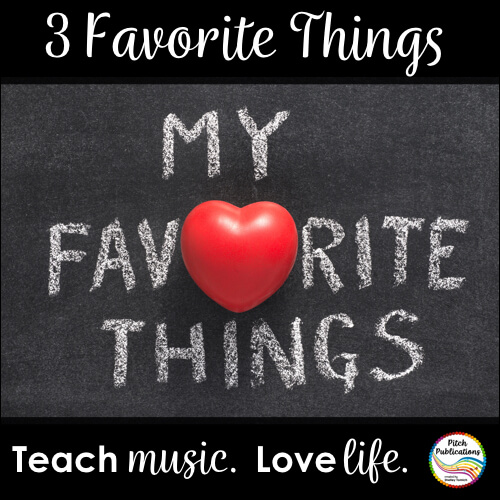 Today I'm linking up Aileen Miracle to talk about three things that have worked great for me recently! I love reading about some new ideas for activities to use in the music room!
This post contains affiliate links. Find my full disclosure policy here.
Beat the Bunny
My 2nd graders are getting ready to enter unit 4 which includes instruments of the orchestra. To kick start the unit/review from 1st grade, we played the SUPER fun game, Beat the Bunny! In this game, students race to collect and sort the instrument eggs by instrument family before the bunny collects all the eggs on screen. Kids had a BLAST and it was so great to see them discussing instrument characteristics!
Instrument Making – Kindergarten
Kindergarten students have been exploring the sounds of percussion instruments. We have discussed scrapers, shakers, and tappers, and have played instruments such as the maracas, guiros, sand blocks, tone blocks, and hand drums to name a few.
I decided it would be a fun extension lesson to make our own! I ordered glow in the dark easter eggs (I actually got mine from Oriental Trading, or Amazon, but they only stock them seasonally!). I am not so concerned about glow in the dark, but I loved that they were CLEAR and they could see what we put in them! We filled our eggs with pinto beans, but you could use anything that would make a noise!
Then we took post-it note sized pieces of paper (parts of an old notepad I had), colored them and then bent them. When you scraped the edges together, it sounds A LOT like a sand scraper!
Finally, we colored the bottom part of a piece of paper (under the X) and then rolled up our papers and made our own rhythm sticks!
Make sure you leave plenty of time to complete these activities! I also used about 2/3 a roll of tape taping the rhythm sticks and the eggs shut. It was also SUPER messy with the beans, but the kids were happy to help clean up!
Let's Move!
My spring break is LATE this year! This means lots of crazy students and one crazy teacher! I find the best thing to do in this situation is to get kids moving as much as possible! This also made a great lesson to use for classes that were ahead of others before Spring Break. I prefer to start everyone on the same page after a break like this.
We played a few of our favorite music games we have already learned and then I taught the song Bluebird, Bluebird and played the game as explained in the following video. I did with K-3 with great success! The only modification I made was we sang "Choose a little child and tap 'em on the shoulder" so I could choose several kids with each round.
What do YOU do before spring break to keep engagement high? Tell me in the comments!
Wrapping Things Up
My final advice? When in doubt, bake cookies! (Pillsbury makes an excellent pull apart cookie dough, I must say). A dozen cookies on someone's desk can make them feel warm and gooey inside (pun intended). This strategy has been around since the beginning of time and is a tried and true method.
If you are new at school and looking for lessons for the first day, you might also enjoy this post on first day lesson plans!
Who did I miss? Any other key people in school we should add?
Musically,
Shelley